'Star Trek Beyond' Trailer Shows Evil Idris Elba as Krall, Ripping Apart Enterprise
Less laughs and more wobbly bass in this new trailer.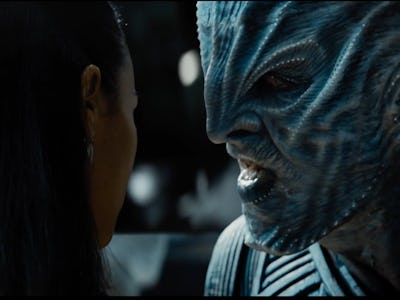 YouTube
The new trailer for Star Trek Beyond released Friday night is an extended two- and-a-half-minute look at the summer film and the new direction Justin Lin is steering the series in.
The first trailer, released late last year, was a humorous look at the film and harkened back to the Beastie Boys' song "Sabotage," which so infamously opened the first movie in the reboot of the series directed by J.J. Abrams.
But with this second trailer, producers give fans a more serious side of the movie and show how the tone will shift under Justin Lin's direction.
Commander Kirk (Chris Pine) and the rest of the crew on the Enterprise in the beginning of the trailer are contemplating whether to go back out on a mission before a lot of wobbly bass in the score kicks in and the action starts.
Thousands of aliens attack the iconic ship, board it, and eventually they rip it in half.
At some point, the crew is captured by the brilliantly scary Krall, played by Idris Elba.
"Our captain will come for us, mercy will be the last thing on his mind," Zoe Saldana's strong character Uhura says to Krall, who responds, "I am counting on it."
The trailer also alludes to a possible one-on-one stand off between Kirk and Krall in a fight for the human race.
"Unity is not your strength it's your weakness," Krall tells Kirk. "I think you underestimate humanity," Kirk fires back with a blaster in hand.
Fans also get a better taste of the high-speed motorcycle chase scene teased in the first trailer – which is bound to be epic with Lin, director of the Fast an Furious series, in at its helm.
The movie is set for a July 22 release. Watch the full trailer below.