Paramount Will End Lawsuit Against Star Trek Fans
Amid the excitement of the new 'Star Trek Beyond' trailer, the studio will reportedly be dropping a controversial lawsuit against a fan-made film.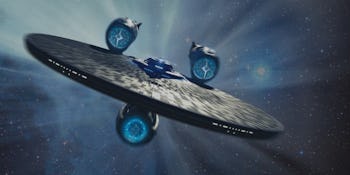 Paramount Pictures
One the eve of an all-new trailer for Star Trek Beyond, executive producer J.J. Abrams announced new details of a long-standing lawsuit that has put Paramount Pictures in tense standing with fans. Last year, CBS and Paramount filed an infringement lawsuit against a particularly impressive Star Trek fan film, Star Trek: Anaxar. Headlines exploded as fans hit back at the studios in a move that would impress any starship captain. Now, after months of drama, the studio has decided to let the fans have their fun and pull back from the controversial lawsuit.
"This wasn't an appropriate way to deal with the fans," Abrams said during a press event this evening on the Paramount lot. Axanar was scheduled to go into production late last year when it was hit with the lawsuit on December 29. Fan uproar against the studio didn't bode well for Beyond, which was intended to bring fan loyalty back to the studios after lukewarm reactions to the franchise's last film, Star Trek: Into Darkness. The film was funded via Kickstarter last year for $638,000, and was set to feature an impressive cast with deep sci-fi roots: Battlestar Galactica's Richard Hatch and Kate Vernon joined by Deep Space Nine alum J. G. Hertzler and Star Trek: Enterprise's Gary Graham.
Long-standing franchises have always handled fan films in unique ways. The folks at Lucasfilm encourage fan films by holding an annual awards show at Star Wars Celebration, and even provide entrants with copyrighted sounds and material for their creations. Paramount and CBS have generally been all right with Star Trek fan films, but after the massive fan reaction and the six-figure crowdfunding campaign, the studio slapped the film with a lawsuit for copyright infringement.
It's unclear if this will put the studio back in the good graces of the fandom, so the execs might do well to show the fans some ongoing love.