Who is the Hell is Famous Dex, and Should You Care?
The Chicago rapper is holding down the musical status quo without blending into the scenery.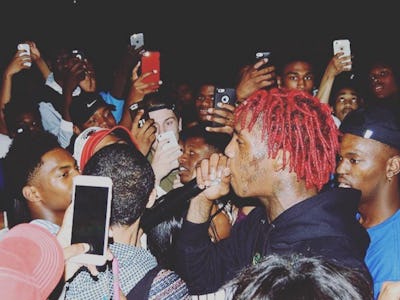 https://www.instagram.com/famous_dex
How long can Atlanta-styled trap music exist in its current basic form? It's a question any faithful rap fan should be asking himself by now. There have been endless variants over the pat ten-plus years, and a definite stagnation over the past four years. How much further out than Young Thug can people take it? How much more can people refine the form than Future has? Will there ever be a new producer who can add something to the conversation, or was Metro Boomin the last true game-changer?
If it's not outright innovation you're looking for — but rather just solid iterations of the same basic building blocks — there's always more to seek out. Sometimes finding the new thing that works best for you takes sifting through the front page of DatPiff, LiveMixtapes, or your favorite free mixtape site.
Trap music is like TV today: There's something for everyone, and most of it is just okay. People have figured out how to do it right. If a young aspiring ATLer or just any old Internet Millennial Kid wants to make a Mike Will-style beat they can pirate ProTools or Ableton and watch some YouTube videos to get the purring hi-hats right, and figure out how to get a kick to rattle anyone's trunk. The best one can hope for, generally, is appealing tweaks to a formula, or just good standalone Soundcloud-bubbling hits to pad out a mix.
Every song on Chicago rapper Famous Dex's March mixtape uses the same basic form and flow patterns, and crawls at the same tempo (An exception is the penultimate "Kanye," which drags a bit more, and, in a nod to the production style of its namesake, employs a central vocal sample, uncommon for Dex's style of music). The name is like an exuberant ad lib written out. and trademarked: #OhhMannGoddDamm. The syllables easily fit in Dex's favored, against-the-beat, triple-time flow.
In its uniformity, it's an easy listen through. Catchy lines stick when they need to ("And you can't see me, baby, Finding Nemo/I'm stackin' up my money, yeah they Pringles,"), from an entertainingly demented, rollicking sea of echoing backing vocals. The five-or-so ghost Dexs double lines, and groan wordlessly. These songs are the aural equivalent of the small rooms full of Dex and his friends partying captured in his videos.
The aesthetic precedent for these visuals — Dex churns out a countless amount of them — is definitely those of hometown "drill artists like Chief Keef, as popularized originally in 2012 around the time of the notorious "I Don't Like" video). Dex, as he claimed in an April profile by High Snobiety, shares the exact same background as Keef: "I'm like five blocks from where Chief Keef came up back in the day. Two years ago me and Chief Keef might not have even seen eye to eye because of that gang shit."
But Dex — a frequent collaborator of post-Thug-and-Makonnen oddball Lil Yachty — favors a lighter variety of turn-up music, making bizarre metaphor and hyperbolic braggadocio as the mortar of his music rather than outright threats and name-calling. The slang is goofy; merely subbing in "Ciabatta" for "bread" when talking-cash can make a song worthwhile. The roots are in his hometown "drill" and its lighter, more upbeat cousin "bop," and by proxy, Atlanta hip-hop, but also in the messy, playful sonics of Berkeley's Lil B (Dex probably has B beat on the average "bitch" word count per song).
In other words, it's an amalgamation of everything you might expect to hear when downloading a street rap mixtape in 2016. Its secret weapon? Dex picks a specific, successful convergence of elements and sticks to it, without blinking. He knows who he is, and the lane he wants to inhabit. Unlike even Yachty, he doesn't aim to bend and extend the tradition with an overt aesthetic: Dex stands out simply by being himself.
The potential for the Chicagoan's advancement and expansion beyond buzzing mixtape rapper is unclear. The universe in which he is doing well at the moment is pretty restricted: He's signed to Atlanta rapper and Migos affiliate Rich the Kid's label. It's not exactly 300 or Epic Records, where the most promising figures in street rap usually end up. But Dex just started bubbling this year: Another few million-plus YouTubes, and a viral dance-video hit, and he might mind some higher profile features, and from there, a more lucrative partnership.
No matter what happens, it's artists like Famous Dex that continue to give trap music a pulse. Sure, superstars — inside and outside of hip-hop — are championing or co-opting its sounds to various ends, but it takes the continuing interest and energy of the youth to assure longevity.