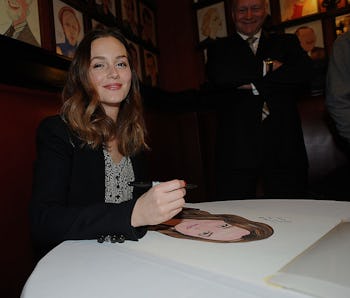 Entertainment
FOX's 'Making History' Will Star Leighton Meester as Rebellious Colonial Woman
Also, the series, to premiere in 2017, has the same basic plot as 'The Time Warp Trio' series.
Brad Barket/Getty Images
This weekend, several new FOX shows got full-series orders for 2017, including unlikely movies-turned-TV cash-ins The Exorcist and Lethal Weapon. But one of the more interesting additions is Making History, a half-hour comedy produced by the team responsible for goofball Will Forte outing The Last Man on Earth, as well as box-office hits The Lego Movie and 21 Jump Street. The show's premise recalls Jon Scieszka's Time Warp Trio children's book series and stars comedian-writer Yassir Lester (now involved in NBC's The Carmichael Show), Leighton Meester of Gossip Girl fame, and Adam Pally from The Mindy Project.
That is to say: like those picaresque, journey-through-time novels, the show finds a group of three friends from 2016 — a group of grumpy college professors, it seems, including Lester and Pally — traveling to various important historical periods in time. This distraction, reasonably enough, screws up their real lives in the process.
The most exciting element of the show is that Meester — formerly iconic "mean girl" Blair Waldorf on GG — is being cast unexpectedly: as a colonial woman during the Revolutionary War whose "modern" views, as EW reports, on gender and racial equality…don't quite play in 1775." So Meester is a woke colonial woman whom these hapless 2016 time travelers introduce to Jezebel, or something? Will she try to change the Constitution? The prospect sounds both totally unlikely — and worth the price of admission.
The elevator pitch, as paraphrased by TV Line, claims that the show will find "history and pop culture comically [colliding]." One wonders exactly how this will work. Given the fact that the writer attached to the project is Julius "Goldy" Sharpe — known for his work on Family Guy, and recently, his contributions to The Grinder — the expectation could reasonably result in a deluge of smart-alecky topical jokes that would stifle the possibility for an actual coherent TV show.
Or the balance could be struck correctly, and of course, it's good to see the great Blair Waldorf (Meester) — the true heart of Gossip Girl, who has recently been starring in films alongside Green Day's Billie Joe Armstrong — return to television. She hasn't gotten enough moments to shine.