'Rogue One' Director Gareth Edwards Exits 'Godzilla 2' to Focus on Smaller Films Instead
Three blockbusters in a row was one too many for Edwards.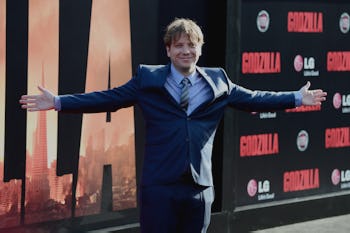 Frazer Harrison / Getty
In Hollywood these days, indie directors get their big breaks almost immediately. You're shilling for your $1 million drama at Sundance one minute, then you're sitting in meetings with Steven Spielberg talking about $100 million blockbuster tentpoles the next. Filmmaker Gareth Edwards had only made one feature film — 2010's Monsters — before he was recruited to the big leagues to direct the 2014 American version of Godzilla. The success of that movie got him the gig directing the first non-episodic Star Wars movie, Rogue One, which will hit theaters later this year. Edwards was expected to return for the Godzilla sequel once he returned from the galaxy far, far away, but it looks like Godzilla 2 will need to find a new director.
Deadline is reporting that Edwards, production company Legendary, and Warner Bros. have made an amicable split, and that Edwards will step down as director on Godzilla 2. The release date of the sequel was recently pushed back from June 2018 to March 2019, which many saw as a move to give Edwards enough space to focus on Star Wars, and then jump right into the return of the iconic giant green lizard. Now it just looks like it'll buy them more time to hire a new director to step in and take over.
While Edwards' skill in ferrying a beloved franchise to big-screen success on Godzilla definitely made it easier for him to land Rogue One, it would have been particularly interesting to see what he would do to continue the unique vision he brought to the first one. It was not a standard blockbuster by any means, and that made it among the best summer movies to be released that year. But per Deadline, Edwards wants to use his newfound directorial power to focus on doing smaller films and giving himself a bit of a breather instead of doing three gigantic movies in a row.
It's an admirable stance. It's easy to forget that it's ridiculously difficult to make movies of blockbuster proportions. Based on what filmmaker Joss Whedon had to say about Avengers: Age of Ultron it seems like it's outrageously stressful. So deciding to make smaller films is a good one, and Edwards' decision highlights a new-ish trend of former indie directors getting their big studio blockbuster breaks and then focusing on smaller projects afterwards.
Colin Trevorrow broke out with Jurassic World, and before he boards Star Wars: Episode IX he's doing a relatively smaller movie called The Book of Henry. Warcraft director Duncan Jones, who earned praise on his small sci-fi debut Moon, has lined up a similarly small scale pseudo-sequel called Mute after his blockbuster video game adaptation. Now Edwards is doing the same.
It'll be interesting to see what other formerly small-time directors like Rian Johnson do after their blockbusters are over. Even better: What will J.J. Abrams do now that he conquered the world with The Force Awakens?
Either way, Edwards is going to be fine, but what about the planned Godzilla/King Kong shared universe? Don't worry about that either. Kong: Skull Island will charge into theaters in March 2017 with the director-less Godzilla 2 a year later. Then Godzilla vs. King Kong is scheduled for a May 20, 2020 release. All potential directors should send their resumes to Legendary and Warner Bros. immediately.