Steven Spielberg and Colin Trevorrow Talk 'Jurassic World' and DNA
Little Colin snuck out to see the original.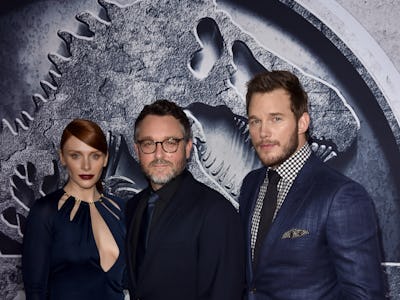 Kevin Winter/Getty Images
Statistically speaking, it's been about a little over a month since you saw Jurassic World. In June, it became the fastest film to reach $1 billion at the box office worldwide. Then in July it became the highest grossing film of the year. Today we have the first look at some of the bonus Blu-Ray/DVD content, which is unusually inspired. We get executive producer Steven Spielberg talking about the origins of the first Jurassic Park film as director Colin Trevorrow discusses sneaking out as a grounded child to check out the T. Rex.
The world, obviously, cannot get enough Jurassic World. It's cool to hear about how Spielberg was developing an ER movie before author Michael Crichton told him about his book about "dinosaurs and DNA," shifting Spielberg's focus toward Jurassic. That's a cool fact, but this is getting to the point where fans want to know what stars had for breakfast on the day of filming or whether the dinosaur erotica spinoff will ever get made. Still, the bonus material is probably deserving of its own YouTube channel as the behind-the-scene Jurassic Park clip becomes its own niche genre.