Can 'The Flash' EP Greg Berlanti Save DC Movies with 'Booster Gold'?
A lengthy interview with the DC TV showrunner reveals a sensibility the DC movie universe needs and deserves.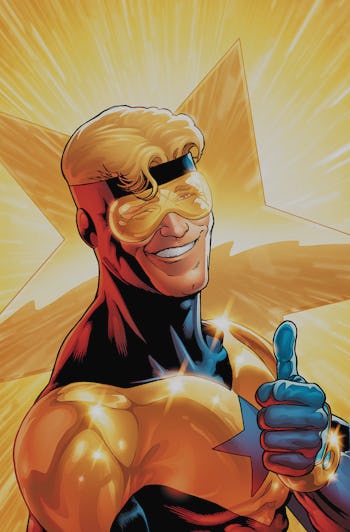 DC Comics
The dust has settled on Zack Snyder's Batman v Superman: Dawn of Justice, and the lavish superhero team-up meant to launch a franchise ended up being a critical disappointment with lukewarm box office results. Though Snyder is currently shooting Justice League - Part 1 in London, the DC cinematic universe seems to be in a bit of disarray. Warner Bros. is trying to fix it, with Ben Affleck promoted to producer, but the rumors about Seth Grahame Smith's exit from The Flash movie do not bode well.
But on the smaller screen, the DC superheroes have won fans over with less brooding, more joyous characters and stories on CW's The Flash, Legends of Tomorrow, and Supergirl on CBS. The cornerstone series that began the DC TV universe, Arrow, is still relatively dark and gritty but has explored fantastical elements and hasn't avoided humor in the slightest.
In a lengthy interview with The Hollywood Reporter, Greg Berlanti, executive producer on all of DC's shows, discussed the key differences built-in to the TV superheroes to the larger cinematic characters — and also revealed that he has designs on jumping to the big screen again, to direct the brash DC superhero Booster Gold in his own movie.
"[P]art of what made Barry Allen [as The Flash] so great was that he was this guy in the middle of all these superheroes who couldn't believe that he was there, and he loved it," Berlanti told THR. "It was the first comic book character who made me cry. He died in Crisis on Infinite Earths saving everybody, and he was the last one anyone expected to save everyone, so inherent in this character was this heartbroken sadness and sacrifice, but at the same time this joy. That duality is something I've really latched on to in a lot of what I've done.
"This is the only Flash I'd know how to do," he added.
When asked if Berlanti could be DC's auteur producer, like Kevin Feige is for rival Marvel Studios, the 43 year-old revealed he's "attached" to a Booster Gold movie with Thor and Power Rangers screenwriter Zack Stentz. "I'd probably direct [Booster Gold], or I would want to. But I don't see my cup as limited," he said. "I actually think some of the stuff we get to do on the TV side is richer, deeper and more like the true comic books in the sense that you're always able to explore a new thing the next week and the stories grow wider and wider."
While Arrow has disappointed fans during its current fourth season, the other ongoing DC superhero shows like The Flash and Supergirl which Berlanti is more involved in, have won acclaim. We Got This Covered called The Flash Season 2 "one of the best comic-book adaptations on TV" while we at Inverse have praised Supergirl for uplifting, exciting stories in spite of its sometimes dumb characters.
So Berlanti is good at his job, but can he direct a big-budget Booster Gold? Should he? Berlanti's sensibilities combined with Booster Gold, a time-traveling jock who seeks superhero celebrity, would be tonally divergent compared to Zack Snyder's breed of brooders. And that would be a very positive change for the Snyder-era DC films, which have been long slogs from the start. A big part of the Marvel movies' success is the joy and wit embedded in even the most serious sequences. Jon Favreau, Joss Whedon, James Gunn and current Captain America/Avengers bosses Joe and Anthony Russo all had comedy backgrounds before making the super jump, and it showed.
But Berlanti has had a difficult relationship with the medium. His last directorial effort was the 2010 Katherine Heigl rom-com Life As We Know It, which has a 28 percent on RottenTomatoes.
A year later, Berlanti was involved with the ill-fated DC superhero Green Lantern starring Ryan Reynolds, and though he was fired from that production, his name stayed attached. "I still get blamed for it, even though I had nothing to do with the finished product," Berlanti told THR. "Having to go every day to see whatever version of the film that they'd concocted at that point was a bit like having to buckle in and go drive to the same auto accident every day and get hit by the same car." (Funny, that's exactly how I felt watching Dawn of Justice.)
Still, Berlanti does reveal to THR why his oversight for The Flash has resulting in a winning television series. "We have three words above the door [of our writers room]: 'Heart, humor and spectacle.'" If Berlanti can apply those sensibilities to Booster Gold, and possibly the DC cinematic universe, then pop culture may at last have the superheroes it actually loves, and deserves.
Justice League - Part 1 is scheduled for November 2017.