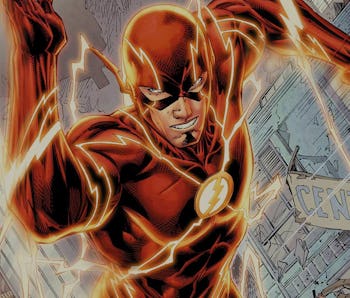 Entertainment
What Seth Grahame-Smith Leaving 'The Flash' Says About Zack Snyder's DC 
The underwhelming 'Batman v Superman' may have led the super speedster to drag his feet.
DC Comics
Whether you liked or hated Batman v Superman: Dawn of Justice, its box office numbers tell a clear story. Zack Snyder's superhero rumble spiraled down in its second week at the box office for a meager $51.8 million, a 69 percent drop from its $166 million worldwide debut. The movie was criticized for being overly dark and grim, and now, industry pundits at the likes of Birth.Movies.Death are reporting Snyder is "at odds" with Warner Bros. over the franchise's future. Fueling the fire is the departure of Seth Grahame-Smith from directing 2018's The Flash starring Ezra Miller. The official reason: "Creative differences", says THR.
While the sky isn't falling for The Flash — which has ample time to find a director — or Snyder's Justice League now shooting in London, it is telling what kind of chaos Warner must be in. Until Dawn of Justice, the studio allowed the 300 director free reign over its properties, but the film's unenthusiastic reception is rumored to have caused second thoughts about Snyder. On numerous occasions, Snyder said he favors darker stories, like in a 2008 interview where the filmmaker says his Batman would have been prison raped in his Batman Begins.
Seth Graham-Smith was attached to The Flash in October before leaving over the weekend. The author of gothic spoofs such as Abraham Lincoln: Vampire Hunter, Grahame-Smith may have offered a different sensibility for The Flash, a superhero whose quick reflexes are outmatched by his quicker wit. The CW series The Flash starring Grant Gustin has been celebrated for its light tone, but in speaking to the NY Daily News Snyder says his Flash will still fit his Justice League universe. "I'm very strict with this universe and I just don't see a version where … that [tone is] not our world."
It's worth nothing the same Birth.Movies.Death report also hinted James Wan (The Conjuring, Furious 7) was also departing DC's Aquaman starring Jason Mamoa. Wan quashed those rumors on Sunday night, tweeting a nondescript photo of himself in front of an Aquaman mural. But the director's statements that his Aquaman will be livelier than Batman v Superman furthered the narrative that DC was plagued by Snyder's nihilistic perspective.
It's unknown how much Snydercould be involved in other DC films like The Flash; in a THR interview, Snyder said DC is creator-driven as opposed to rival Marvel's decided-by-committee uniform. But the departure of Grahame-Smith indicates something is forcing the superhero speedster drag his feet in the Hall of Justice.