Feedback Just Fed 5,000 People With Food Too Ugly for Grocery Stores
"This is the first time I've ever eaten 'food waste' but it's good."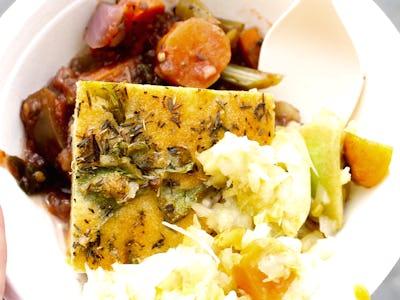 Sarah Sloat
Fifteen students from P.S. 34 of New York City lined up on stage at Union Square park on Tuesday, launching into a series of call-and-response chants:
"We don't want to waste our food"
"Wasting is bad for me and you!"
After they'd finished, Tristram Stuart, the founder of Feedback — an organization that aims to reduce the amount of food we throw away simply because it looks ugly — rushed to congratulate the cheerleaders of his cause, which was making its New York City debut, named "Feeding the 5,000," which aimed to do exactly that: Feed 5,000 people free meals. The setting was appropriate: Farmers who brought their vegetables to Manhattan park for that first greenmarket 40 years ago were food pioneers.
"It's not so much about educating kids, it's about being open to being educated by them," Stuart told Inverse. "They still got their instincts intact — they haven't been warped yet by the marketing that makes us think we need more than we need or that a carrot needs to be stick straight."
Tuesday's free lunch consisted of a torte — a multi layered cake — made of vegetable trim, tops, and peelings, a "quick pickle salad," and "root-atouille," a conglomeration of eggplant, zucchini, red peppers, onions, diced tomatoes, balsamic vinegar, and herb.
Bronx-based Baldor Specialty Foods provided the vegetables that would have been thrown away by supermarkets.
"This is the first time I've ever eaten 'food waste' but it's good," Sergey Chubryna told Inverse, taking advantage of a free meal on his way back to work.
Events similar to Tuesday's have been held in throughout Europe and Australia since the original event at London's Trafalgar Square in 2009. (On May 18, Feedback will host an additional American event in Washington, D.C.) The idea is typically the same: Feed at least 5,000 people with food too often considered "food waste" for free.
Every year Americans throw out $218 billion in food. Approximately 80 percent of that waste happens in the home or in supermarkets. The United Nations found that roughly one-third of all the edible parts of food produced for human consumption gets lost or wasted — that's about 1.3 billion tons of food per year. It's estimated that nearly a billion people could be saved from malnourishment on less of a quarter of the food that is wasted in the United States, United Kingdom, and Europe combined.
The 5,000 meals served were actually the second round for Feedback and its partners, a coalition of 40 organizations. Earlier in the day the food rescue organization City Harvest and the Holy Apostles Soup Kitchen distributed another 5,000 meals to soup kitchens and food pantries across the city.
"It's so important that people take personal responsibility to reduce food waste," said Monica Munn to Inverse, a senior strategy associate at the Rockefeller Foundation, which partnered with Feedback for the event.
That message had already resonated with Ashley Baxstrom, who was converted at a "Feeding the 5,000" event in Milan.
"It's so important to bring this issue to people's attention," Baxstrom said. "Looking around here, you see anyone from business people on their lunches to students who are out here seeing how easy it is to make a difference."
At around noon, the crowds were gathering, attracted by calls of "Free lunch here!" and chipper folks dressed like carrots and snap-peas.
"The date labels in this country are the most obscene that I've come across in my entire career as a food waste campaigner," Stuart says, while standing near the volunteer check-in tent. "The fact that all the different companies present different safety dates and guarantees of quality — even I'm an expert and I look at these labels and I don't know what they mean."
"What are the 90 percent of Americans thinking when they say they throw away food because of the expiration date?"
Stuart's hopeful that things are changing when it comes to food waste. He can see it in his native England, where Feedback was instrumental in persuading Tesco to become the world's first retailer to publicly commit to reporting its food waste. He has also been able to grow Feedback into a global organization operating five different campaigns, while saving over 142 tons of food so far at the "5,000" events.
The goal, meanwhile, stays constant: Convince supermarkets and restaurants to donate food instead of throwing it away, persuade big companies to report the food that they are wasting so those numbers can be examined to find a solution, and to get food distributors to set a regulated standard for food safety labels.
"It is the very fact that we have seen measurable, concrete, and very significant reductions in food waste that gives us faith," says Stuart. "Catalyzing a food waste movement — galvanizing the public outcry on this issue — is the principle agent for this change."