'The Woods' Will Be Director Adam Wingard's First "Shit Your Pants" Horror Film
'The Guest' and 'You're Next' director returns with the trailer to his newest and most straightforward horror movie yet.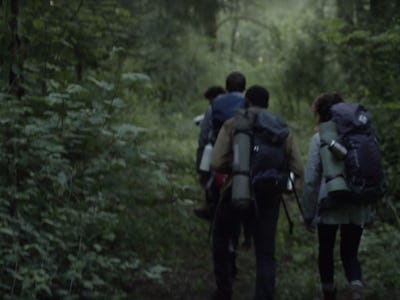 YouTube / Lionsgate Movies
Adam Wingard is taking another big step up.
The 33-year-old filmmaker broke out in horror genre circles by directing segments in the celebrated horror anthologies V/H/S and V/H/S/2, and then helmed the Dan Stevens-led genre mashup thriller The Guest, which mashed up influences like The Terminator and Halloween to create a terrifying portrait of a psychopath.
His new film, The Woods, looks like another unique creation.
Judging by the film's first trailer, The Woods looks like it'll create its own unique identity by taking the best parts of the twisted genres in which Wingard has participated. The set-up sounds familiar: A bunch of kids go into the woods. a la The Evil Dead or The Blair Witch Project, and some scary, potentially supernatural shit happens to all of them — and not all of them will make it out alive. It's the most simple, and best, way to get people scared for a classic horror movie.
The claustrophobic, seemingly found footage feel and creepy imagery is complemented by some seriously hyperbolic quotes from critics, set to a particularly unnerving cover version of The Police's "Every Breath You Take." Sting has never been scarier.
The cast is rounded out by actors James Allen McCune, Callie Hernandez, Brandon Scott, Valorie Curry, Corbin Reid, and Wes Robinson.
While the plot is still a mystery, when Wingard tweeted out the trailer, he admitted that The Woods will be his "first full on 'shit your pants' horror film," which will be great for horror fans and bad for horror fans that wear pants.
As a bonus, here's an equally unsettling poster for the film below:
The Woods will hit theaters — and according to its director, literally scare the shit out of you — on September 16.