Bryan Cranston Joins 'Electric Dreams,' New Philip K. Dick Anthology Series
Does Cranston dream of electric sheep?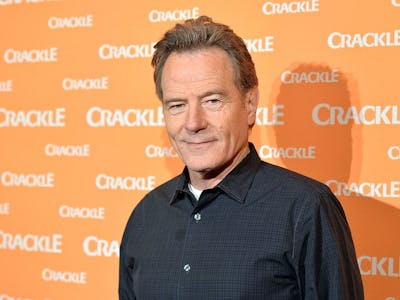 Slaven Vlasic / Getty
What does Bryan Cranston do now that his time as Walter White on Breaking Bad is over and he's nabbed a Best Actor Academy-Award nomination for Trumbo? Does he go for another groundbreaking role in a major TV show or help produce and star in a lofty new TV series? It turns out it's a little bit of both.
Cranston is set to star in and executive produce a show called Electric Dreams: The World of Philip K. Dick. The series was commissioned for British TV network Channel 4 and will be distributed internationally by Sony Pictures Television, looking to be a specifically international affair. The creative team will be made up of both British and American writers.
The ten-part anthology series will be based on legendary sci-fi author Philip K. Dick's work, which has been mined for years with adaptations of films and TV shows like director Ridley Scott's genre classic Blade Runner, to Steven Spielberg's 2002 actioner Minority Report, to Amazon's recent series The Man in the High Castle. As we've noted before, adapting Dick's work isn't all that easy, but this series seems like it will be a kind of updated version of The Twilight Zone focused on the author's work, but also be a kind of scathing genre anthology along the lines of something like the acidic techno-satire Black Mirror. In short, it sounds promising.
"As a long-time fan of Philip K. Dick's work, it's a tremendous honour and thrill to be part of this series," executive producer Ronald D. Moore said in a press release. "His short stories are a treasure-trove of material for artists to draw from and I think this will be a very exciting project."
Channel 4's Chief Creative Officer Jay Hunt added, "Electric Dreams: The World of Philip K Dick will adapt and modernise his singular vision for a TV audience," while Cranston offered his own cheeky response to the show's announcement: "This is an electric dream come true," said Cranston. "We are so thrilled to be able to explore and expand upon the evergreen themes found in the incredible work of this literary master."
So what can we expect from this ambitious project — which takes its name from Dick's short story Do Androids Dream of Electric Sheep, which was the basis for Blade Runner — besides Cranston's talent? Moore, for one, will bring some genre clout to the production. He's the Emmy-nominated writer for Battlestar Galactica, and was involved in the writing staff on three previous incarnations of Star Trek TV series including The Next Generation, Deep Space Nine, and Voyager. He also developed and produced the time-travel series Outlander*.
The series' other executive producer, Michael Dinner, doesn't really have the same genre chops as Moore, but he's been a TV industry vet for three decades. Hes worked on shows like Justified, Sons of Anarchy, Masters of Sex, and The Wonder Years. The dude has range, people.
There's no premiere date yet, but expect some mind-bending anthology craziness sometime next year.