Listen to the Hot New Kim Jong-un Anthem North Korea Just Dropped on Its YouTube Account
The supreme leader's second song gets darker.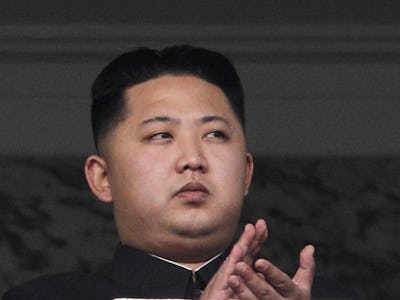 wallpaperswidefree.com
It's been a big few weeks for dramatic pop music: Beyoncé's Lemonade was epic and revealing, and Drake's Views was just as emo as we all expected. But beating them all in mopes and bombast is North Korea's new Kim Jong-un anthem, which popped onto YouTube today.
The state-owned KCTV (Korean Central Television) account released a video performance of the stirring new anthem in their general's name, which features a large brass and string section with a chorus of male-dominated voices. The anthem was played in concert ahead of the events of the country's Congress event today.
Not to be confused with the communist state's national anthem, "Aegukka," which was adopted in 1947 to celebrate independence from Imperial Japan, this is one of the many tribute songs North Korea has created for its reigning leader. The new anthem marks at least the second in Kim Jong-un's honor.
Perhaps he doesn't much care for the first one because the instrumentation sounds an awful lot like one of those random playful symphonies you might hear at the start of a Looney Tunes sketch. It was a lot more joyous and pounding to keep soldiers in step along the many military parades conducted in the country.
But the new song is darker and more foreboding. Dictators tend to use strength and open displays of power when they feel their grip on the country is deteriorating. So, perhaps this is another sign of the country's ultimate demise.
Kim Jong-un knows a bit about posturing to seem more powerful than he is. In April, the country launched two failed mid-range missile tests, and in January the communist country claimed it tested a nuclear weapon in an underground facility. Third-party observers recorded the event on earthquake monitoring technology and laid doubts against the claim it was a real nuclear test.
While we don't know yet what the lyrics of the new anthem are, if they're anything like the first dedication to Jong-un, then they're pretty strong and full of drama (without topping Bey's "Don't Hurt Yourself," of course).
By exploding the mental strength of the united heart of our million citizens / Joseon resounds the marching drums of the powerful, prosperous nation/ Let's go, Great Baekdu-mountain nation, Songun's height of ensign / Onward, onward to the final victory / Onward, onward to the final victory
Kim Jon-un's New Anthem
Kim Jong-un's First Anthem
Kim Jong-il's Anthem