Why is Drake's 'Views' Outselling Beyoncé's 'LEMONADE'? 
Analyzing Queen B's long and patchy tenure on the Billboard charts.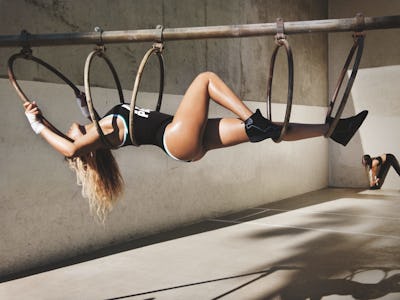 Ivy Park/beyonce/Facebook
A flurry of musical events disrupted the flow of the life of music fans this week: Prince mourning was followed up by Beyoncé's LEMONADE surprise. The anticipated release of Drake's new studio album, Views, came the following week, just as people were resigning themselves to shelling out on iTunes or trying TIDAL to grab Beyoncé's album or video, or both.
LEMONADE will likely be the most exciting surprise album drop/anti-rollout of the year. The 24-hour time window for HBO subscribers had to check out her 57 minute, Terrence Malick-reminiscent special before it was given over to TIDAL exclusively made everything feel particularly urgent.
Yet the album's commercial performance, and that of its songs in its first week, points to a curious truth about Beyoncé. She is regarded by many as the de facto Queen of Pop. Her auspicious 13-year tenure on the Top 40 as a solo artist speaks volumes for the interest her every move generates, and for her music's superior quality — backed by endless drove of great supporting artists, songwriters and producers who would give an arm and a leg to work with her.
But the numbers have never really supported the Queen conclusion. Over the course of her career, Beyoncé has become less and less of a chart topper outside of the albums sphere. With the exception of a few ubiquitous singles, her songs generally perform modestly on a commercial level. Even her album sales stats, though shes been able to reach #1 with all six of them, have been dwarfed by many of her contemporaries. The most recent surprise point of comparison? Despite the sales hype, Drakes Views from the 6 is slated to sell almost twice as much in its first week as LEMONADE; the Toronto rapper/singer's album outsold Bey's first week in just one day.
She's an expert at whip-smart marketing and making her recent albums more available over time (She waited over a year to serve her 2014 self titled to Spotify). But Beyoncé's success manifests itself in a different fashion than her "pop diva" peers — from fellow TIDAL-beholden vet Rihanna to Katy Perry to even the all-dominant sales behemoth Adele.
To younger audiences no doubt, Beyoncé — moving toward legacy status — will not be as much of a draw as a Drake, who siphons in modern pop and street hip-hop trends, speaking to millennial interests more than Beyoncé. Her amalgamation on the past two albums is both single-minded, sounding like nothing very recognizable — especially on LEMONADE — steeped in more gritty sonics and retro influences than any pop album in some time. Like Kanye, Bey aims for genre-bending collages, tweaked by endless collaborators, to make something huge, and unfamiliar but hip.
But today, neither Kanye nor Beyoncé is the trendsetter that Drake, who has championed and taken numerous artists — from Migos to iLoveMakonnen to, now, established dancehall stars Wizkid and Popcaan — to a greater level of success by remixing their songs, featuring them, or just outright jacking their style. Beyoncé's last #1 single was "Single Ladies" in 2009, and "Drunk in Love," which peaked at #2, was her last Top 5 single — and her only one since 2009's "Halo."
Compare this with the track record of Rihanna — a nominee for the notorious "Becky with the good hair" — who misses less often than Beyonce, and currently holds the record for the third most #1-charting singles of all time. Beyoncé inaugurated the LEMONADE era with one distinctly experience single, which had only a few weeks to set in before the big unveil. It became more notorious as a source of controversy than a club or radio staple. Today it holds fast at #10 on the charts, behind two Drake-related singles and the lethal "I Took a Pill in Ibiza." Such is the way of the world.
The way of Beyoncé's career in the 2010's indicates that she has become — and helped define the notion of — a pop "albums artist" in the modern age. Every song on LEMONADE has found a place on the Hot 100 this week — from positions #10 to #63. This is, after all, an album that a lot of people are playing through in full. The overarching concept, hammered home by the visual presentation, no doubt encourages people to listen through; Beyoncé is good at marketing even without meaning to be. With LEMONADE, she has, in a sense, divided and conquered. Of course, the same phenomenon occurred with Drake's last mixtape, showing that Drake been consistently successful in both the singles (his "One Dance holds at #2 currently) and full-length sphere in a way few hip hop stars are able to sustain.
If you're shocked at the extent Drake has trumped Beyoncé in the sales department, don't be. He has the youth on his side, and in a convoluted industry that separating out into spores of itself — between the streaming wars and other confusing viral release strategies — numbers mean a bit less. But mostly, everyone establishes their own lane for success or, perhaps more importantly, maximum longevity. Artists like Beyoncé and Kanye have found ways to keep people interested in their releases for a longer period of time, while artists like Drake and Adele aim for quick and massive takeovers. It's all in the game.