Watch Obama Channel Larry David in 'Curb Your Enthusiasm'-Style Sketch
The White House correspondents dinner offered a great 'Curb' send-up.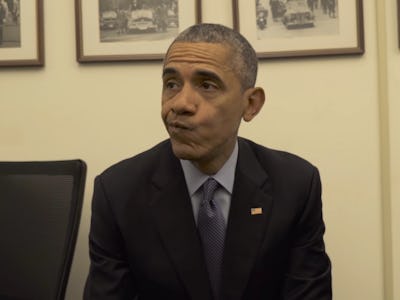 Olivier Douliery-Pool/Getty Images
It's not easy to follow President Barack Obama at the White House correspondents dinner, but Larry Wilmore did it successfully by pandering to the online crowd and having his jokes completely bomb in the room.
"Welcome to negro night," Larry Wilmore said opening his speech to the overwhelmingly white audience. "Or as Fox News puts it, 'Two Thugs Disrupt Elegant Dinner.'
That joke kicked off a string of pointed, racially charged and media-focused jokes from the host of The Nightly Show With Larry Wilmore that left most in the room silent.
One of his jokes pretty blatantly went after Wolf Blitzer's show The Situation Room, not even making fun of it really — just saying that it's awful. "Why is Wolf Blitzer still on TV," Wilmore said, drawing audible boos from the crowd and a blank, unhappy stare down from the CNN anchor.
Wilmore also went after two of Obama's legacy policy issues: the closing of Guantanamo Bay and drone strikes in the Middle East. Less seriously, Wilmore also had a string of Jeff Foxworthy style one-liners based on Obama's age.
"(Obama's) hair is so white it tried to punch me at a Trump rally," Wilmore said. "You're hair is so white it keeps saying, 'all lives matter.'
Obama was no slouch on the night either. It wasn't as memorable as last year's presidential sketch alongside the Keegan-Michael Key, but it did have a pretty great low-production digital sketch:
"F—- you Chuck Todd," Obama says in the video, reacting to the Meet The Press host's comments that the president wouldn't fare well in D.C. after his term is up. It opened a sketch that with its light-hearted music, grouchy humor, and awkward pauses owe much to Larry David's HBO series Curb Your Enthusiasm.
Obama in the video struggles with how he'll deal with not being the president and contemplates coaching a basketball team, getting involved with Michelle's Snapchat, and watches Toy Story with the teary eyed former speaker of the house, John Boehner.
Watch the speeches below or visit the CSPAN page.