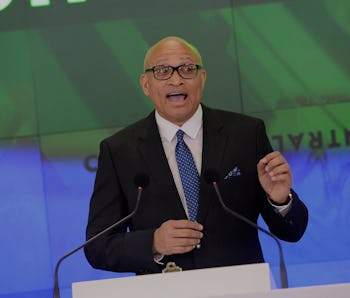 Culture
Season 2 of 'The Nightly Show With Larry Wilmore' Will Be Essential TV
The comedic news show just got renewed, a move late night TV desperately needed.
The Nightly Show with Larry Wilmore did not have the smoothest start. Wilmore came laden with huge comedic expectations — as a former Daily Show correspondent, and as the new show taking over the old Colbert Report time slot, he was instantly in Jon Stewart's and Steven Colbert's long shadows, and Wilmore, a mild sort by nature, couldn't seem to match up. His panel format was awkward; too often panelists were shouting over each other before the show cut to a commercial break. But Wilmore found his footing, and he's just been renewed for a second season. With Colbert declawed on Late Night and The Daily Show in a transition to new host Trevor Noah, Larry Wilmore is now smart network television's greatest hope. Here's why.
He charges into topics that other news shows tiptoe around.
The Nightly Show was originally going to be called The Minority Report but changed the title due to confusion with another show. Yet that first instinct endures, to focus on minorities — people who are not straight white Christian dudes. Racism in America owes to our unwillingness to face it and acknowledge it. Because it's totally over, right? Guys? As Fox News correspondent Eric Bolling put it,
"It's getting tiring. We have a black president, black senators, we have black heads — captains of business, companies, we have black entertainment channels. Where is the… Is there racism? I don't think there's racism. I think the only people perpetuating racism are people like this gentleman from NAACP, are the Al Sharptons of the world. Let's move on. Let's move on."
We greet such statements with weariness and eye-rolling; of course Fox News would say that, but somebody needs to mock it, lest we grow complacent. With Jon Stewart gone, Larry is that guy. Sure, his style is less impassioned than Stewart's, but beneath his mild delivery is a razor wit.
He's completely irreverent and tells it like it is.
Social justice issues are important, but extremists thrive on all sides. Even allies of social justice causes are finding that public square increasingly daunting. Larry Wilmore is a champion for justice, but like Jon Stewart before him, he's foremost a champion for logic and reason. When those who fight for social justice causes do head-scratching things — like interrupt civil rights advocate Bernie Sanders at a rally — Wilmore calls them out, too.
He gives a voice to people the rest of television and Hollywood ignores.
It's no secret that late night talk is not exactly diverse. Wilmore is one of the only black men hosting anything, and no women are. Even Hollywood's good guys like Matt Damon have caused controversy through their cavalier attitudes towards this phenomenon. Wilmore took some time to find his footing with the panel format, but once he did, his show became a showcase for topics that would otherwise go underserved. Women are over half the population. America is becoming more diverse, and yet Hollywood continues to be bafflingly surprised when minorities get excited to see representation onscreen. Larry Wilmore is not surprised.
With Jon Stewart gone, Stephen Colbert revealing himself to be a bit of a sap, John Oliver not available to those who can't afford HBO, and Trevor Noah a big question mark, Larry Wilmore is the only talk show host who speaks to how America is today. As election season approaches and the circus of madness begins, Season Two of Wilmore's show will be our voice of reason.