Star Wars: Episode VIII' Is Halfway Done
 The writer/director also announced that his 'Star Wars' movie is halfway done.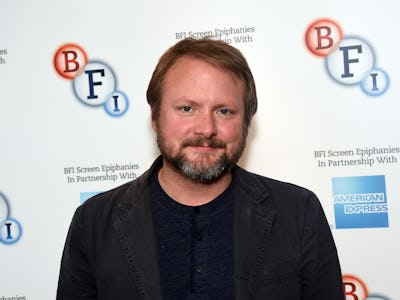 Stuart C. Wilson / Getty
If it's Star Wars, you have to keep things secret. That's why we only know the bare minimum about writer/director Rian Johnson's new movie, save for an announcement video, a cast list, and some blurry paparazzi photos from disreputable sources, taken of random aliens or something. We'll have to wait for the next official announcement from StarWars.com to drop some big news about the next episode (we're looking at you, May 4th), but there are also some semi-official outlets to use in order to gain some new yet non-specific peeks at Episode VIII. One of those semi-official outlets is Tumblr.
The best looks at the movie so far have been from Johnson's own personal Tumblr page, and when we say "looks" we mean a single photo of Lupita Nyong'o standing in a motion capture suit on an empty soundstage. But good news! Johnson just updated his page with a triple threat post featuring a self deprecating joke, an update on the shoot, and a new look at some of the spacecraft and sets from the movie.
"I can't believe we're halfway through the shoot. (We're halfway through the shoot!)" the post says, which means they're almost done with the marathon of making a multi million dollar Star Wars movie already. It seems they'll have more than enough time to add in all the special effects in post production to make the December 15, 2017 release date.
The first image Johnson posted to mark the occasion is of a Resistance X-Wing fighter, presumably with a member of the crew wiping the cockpit down to get ready for a new take. Is this the same X-Wing that the British royal family posed in front of earlier this month? "Good. Bad. I'm the guy with the microfiber sham," Johnson joked about this and the other image.
But who's in the pilot seat? Based on the helmet design it's definitely not Oscar Isaac's Poe Dameron. Is it new cast member and Johnson's confidant Noah Segan? We think so.
And can anybody else make out the Aurebesh markings on the side of the ship? We can't make out the top, but the bottom seems to say "Other Side." See if you can figure it out.
Johnson's other photo offers a little less new definitive Episode VIII details, but it should definitely bring a warm fuzzy feeling to any Star Wars fan's heart. The First Order crew member, replete with a throwback looking helmet, stands in front of a console that looks straight out of A New Hope in 1977. What's old is new again.
Also, there's another crew member wiping down the console with a microfiber sham. What was the sham budget on Episode VIII? Probably a few million bucks.
We'll keep checking back to Johnson's Tumblr page for some more news. Episode VIII is only halfway done with filming, so there's plenty more that he can post.