Princes William and Harry Crash the 'Star Wars Episode VIII' Set
The British Princes came. They light-sabered. AND they embraced Chewabacca.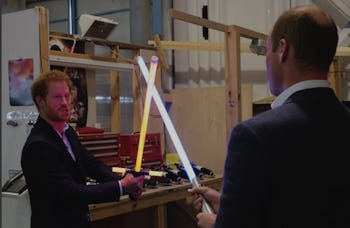 On Tuesday, William, the Duke of Cambridge and Prince Harry traveled to a galaxy far, far away — okay, actually the set of Star Wars: Episode VIII at Pinewood Studios in London. Since Prince William is the official president of the British Academy of Film and Television (BAFTA), his royal visit to the Star Wars set was clearly in support of British talent in the filmmaking industry. It was William's first royal engagement since returning from a week-long trip to Bhutan and India last week with his wife, Kate Middleton.
Self-proclaimed Star Wars fans, the Princes got to meet the creative teams behind the film, and were given a personal tour of the new props, costumes and creatures from Episode VIII. But, of course, their visit wasn't all business. Actor Mark Hamill tweeted his excitement about meeting William and Harry, and even made a self-referential joke about being a Prince.
Hamill also made a joke (?) about being instructed not to hug the royal brothers, which apparently Chewy blatantly ignored:
BB-8 also joined in on the festivities, tweeting: "Royal Beep!" By the looks of their royal Instagram and Twitter accounts, Prince William and Harry definitely got to live out every Star Wars fan's dream by:
Engaging in a mock light saber battle
Harry: "No! I'm Obi-Wan!!"
Hugging Chewy
Harry: "I just know you secretly like me more than Will."
Receiving pilot advice from Luke Skywalker
Mark Hamill: "Don't even try to feel the Force, Harry."
Handling Daisy Ridley's head cast
William: "Yummy."
Considering possible updates to the Beefeater uniform
William: "Rather fetching. Does it come in a larger size?"
Conversing deeply with BB-8
"Some people suspect I'm a robot, too. Though infinitely less useful."
Posing for an official photo opp with the Star Wars cast
William: "Whose Empire is it now, eh? Hehe."