Tech Chiefs Warn Congress: "We Invented the Internet," and Now We're Falling Behind
"How is this acceptable? America leads the world in technology."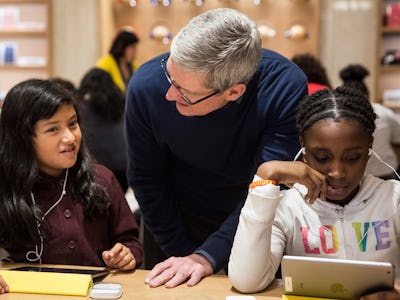 Andrew Burton / Getty
On Tuesday, tech leaders linked up to urge Congress to support computer science requirements in K-12 education and to themselves to raise money for the cause. America's handhold on the future is drifting out of reach, they say: unless kids are inculcated with coding and programming expertise, the United States will suffer. Not only will the best technology products and services spring forth from overseas, but our national security will be compromised.
"This is our chance to position the next generation to participate in the new American Dream. "
In January, President Barack Obama similarly begged Congress to meet the future's demands, requesting $4 billion for his "Computer Science for All" initiative. The Computer Science Education Coalition, who, in conjunction with Code.org, organized the petition is reportedly asking for just $250 million.
The 47 tech pioneers, 28 governors, 10 K-12 leaders, and 16 education and nonprofit leaders raised almost $50 million on their own, about half of which will be donated to Code.org. All signed an open letter to Congress and the House of Representatives outlining why such education was vital to our nation's future.
Among the notable signatories were Bill and Melinda Gates, Microsoft's Brad Smith, Google's Eric Schmidt, Apple's Tim Cook, Facebook's Mark Zuckerberg, Twitter's Jack Dorsey, Amazon's Jeff Bezos, IBM's Ginni Rometty, Jessica Alba, and Mark Cuban. In just the few hours since the public petition launched, over 1,000 people have themselves signed on in support.
"We invented the personal computer, the internet, e-commerce, social networking, and the smartphone."
The letter's highlights (or, rather, lowlights):
The Current State
In America today, the letter states, "three-quarters of U.S. schools do not offer meaningful computer science courses," and the students who miss out the most are girls and students of color. "… what is increasingly a basic skill is only available to the lucky few," they write.
The letter claims, however, that 9 of 10 parents want those courses to exist. The sooner it comes into existence, the better: as each new generation grows up without adequate computer science education, the United States falls farther and farther behind.
We're Losing Jobs
There's a casual 500,000 unfilled computing jobs, and yet only 50,000 computer science graduates each year. This need will only increase as the years go on. With each unfilled job, both people and state governments miss out on paydays (the former through wages, the latter through income tax). And these jobs — computer science jobs — are the "highest-paying, fastest-growing jobs in the U.S. economy."
"At a time when every industry in every state is impacted by advances in computer technology, our schools should give all students the opportunity to understand how this technology works, to learn how to be creators, coders, and makers — not just consumers."
Other nations, meanwhile, are teaching computer science to their youths. While the coveted tech jobs primarily remain within the U.S. for now, they may skip overseas if the educational system doesn't change. In the interim, these companies will need to outsource, further damaging our economic setup in years to come. Or so these tech moguls and politicians argue.
Our Security Is at Stake
We're consistently warned of an impending cyberwar. In March, John McAfee told Inverse: "There is a cyberwar looming on the horizon, which will be many times more devastating than any imaginable nuclear war." By educating the young in computer science, this letter argues, we'll be better preparing for — or ruling out — that inevitable catastrophe.