Final 'X-Men: Apocalypse' Trailer Confirms Wolverine, Debuts Jubilee
Old Man Logan has dropped in to help the new recruits punch up some bad guys in an industrial hellscape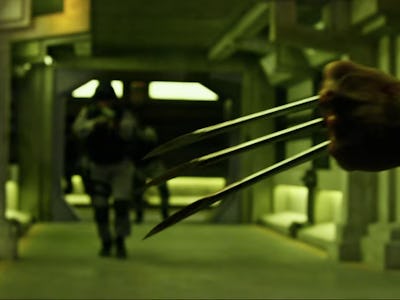 Old Man Logan is in the building. The final X-Men: Apocalypse trailer dropped this morning, delivering a quick summation of Apocalypse's history, campaign platform — total destruction, crushing buildings into dust, wielding his four powerful mutants as Horsemen, the whole shebang — and new foes. We get our first look at Jubilee and a classic Wolverine tease. That's right. The X-Men universe's bad penny is back.
In the trailer, Cyclops (Tye Sheridan) tells Mystique (Jennifer Lawrence) the mutant students received "a little help" punching up the bad guys. The next shot depicts Wolverine sliding those adamantium claws out of his furry knuckles.
So what does Wolverine's presence mean for the new class of X-Men? Not much. It's more significant for the man-mutant himself. The press has been aflame with Hugh Jackman's earnest pleas for an R-rated standalone Wolverine film, so his performance in Apocalypse might be an audition. Jackman's turn as the animalistic mutant in early X-Men films is a genre relic at this point; the guy has been performing as a superhero before American cinema fell in love with super-stories, and he's still one of the most in-demand actors around.
It's charming to see Jackman is just as, well, jacked, about his performance in Apocalypse as the rest of us. He even teased the final trailer's reveal on his Twitter.
Now that Wolverine is a confirmed presence in the film, we expect to see some generational drama play out. A New Mutants film has been rumored in the past few months, and the details of Wolverine 3 are still being kept quiet. It will ultimately help the X-Men film franchise to split its narrative in two: on one hand, Logan's journey, and his whole slice and dice routine, is what puts butts in movie theater seats. On the other hand, the X-Men franchise has the unique ability to showcase young, in-training superheroes. Superhero films are about to double down yet again on the genre's most famous teen hero, Spider-Man, but we'll also meet a couple newbies in Apocalypse, most notably the 1980s mall rat Jubilee, who makes a lightning fast, and silent, appearance in this final trailer.
Will the younger versions of the X-Men remain captivating, or will Wolverine, yet again, steal the show? Find out May 27, when X-Men: Apocalypse roars its way into theaters.