9 Animated Series Cancelled Before They Could Even Start
We memorialize a few cartoon series that didn't make it past their pilot episodes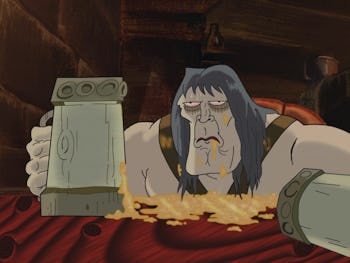 YouTube
Some fantastic cartoon series, like Young Justice, ended too soon, but others don't even make it to our TV screens before their plugs are pulled. We've listed a few animated series that could've been great, if they had only aired beyond a short pilot episode or clip leaked online.
Korgoth of Barbaria
Originally intended as a series for Adult Swim in 2007, this heavy-metal and bloody parody of Conan the Barbarian was dropped for being too costly. Adult Swim has run the pilot created by Aaron Springer (Dexter's Laboratory, SpongeBob SquarePants) twice since its rejection, and audiences still enjoy it now.
Verne on Vacation
With smooth animation, bright colors, and fun characters, this would've been an entertaining show, comparable to The Amazing World of Gumball on Cartoon Network. As it stands, we only get to see this nine-minute video of Verne's adventures, so that'll have to suffice.
Buffy: The Animated Series
Joss Whedon and fellow creators only released this short promo, but even the popularity of the live-action show couldn't convince Fox to run with the animated series. It didn't know what kind of audience to shoot for, because the network figured the show was too dark for kids, and adults wouldn't be interested in watching a cartoon.
Welcome to Etingville
This pilot aired on Adult Swim in 2002, but the station decided not to pick up the series for a continuation. The animated work is based on a comic book series called Etingville by Evan Dorkin (also the creator of the animated pilot) which follows four teenage nerds as they geek out about comic books, video games, science, and more.
The Amazing Screw-on Head
This one was based on a one-shot comic of the same name that was created by Mike Mignola, probably better known for Hellboy. Screw-on Head is an agent of the U.S. government during the Lincoln's presidency that can – you guessed it – screw on his head to different bodies that will give him an advantage in battle. This pilot aired on the Sci-Fi Channel's website with a poll asking audiences if it should continue the series, but Sci-Fi didn't pick the show up and the episode was relegated to a DVD release one year later.
The Modyfiers
This 2007 pilot was promising with its art style and female protagonist, but Nickelodeon didn't bite and this short just fell away after its premiere. Apparently Nick wasn't interested because of the female lead, so the station passed over this in favor of male protagonists that would supposedly give them better merchandise sales.
Lakewood Plaza Turbo
This one is tentatively still on our list. In 2013, a pilot for Lakewood Plaza Turbo leaked alongside Steven Universe, and the series came back recently as a mobile game, along with three new shorts each animated by different artists. But we're back to having no news again, so this Street Fighter, Dragonball Z, and Adventure Time mix may return.
Constant Payne
Angry Beavers writer Micah Wright created this series in 2001, and the action-adventure story would've been the first of its kind on Nickelodeon, predating Avatar: The Last Airbender. Unfortunately, while the father-daughter dynamic seemed genuinely endearing, differences between Nick and the writers concerning their pay caused this idea to flop.
'The Kitty Bobo Show'
This pilot was produced by Cartoon Network back in 2001, when viewers could vote on which series they'd like to see more of. Up against Kids Next Door at the time, The Kitty Bobo Show was looked over in favor of 2x4 technology and won second place in the poll. This pilot shows us Kitty Bobo, voice by Dante Basco (Zuko from Avatar), getting a new cellphone and trying to convince everyone that he's cool — to little effect.