Latest 'Game of Thrones' Season 6 Clip Shows Sansa and Theon Escaping Ramsay 
Alfie Allen and Iwan Rheon brought a new clip to 'Jimmy Kimmel Live.'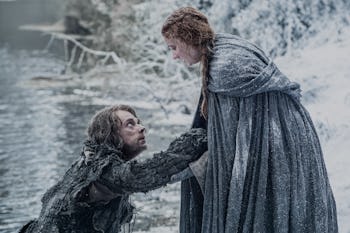 HBO 
Alfie Allen, Iwan Rheon, and Michael McElhatton — a.k.a. Theon and the Boltons — appeared on Jimmy Kimmel last night to present another Game of Thrones season 6 clip. The show has been surprisingly liberal with sprinkling Season 6 scenes all over late night TV, despite keeping the details of the new plotlines tightly under wraps.
First, Liam Cunningham brought a clip of Davos and Dead Jon Snow to Conan, offering considerable proof that Jon Snow lives. Then, the show released yet another teaser and three clips depicting Cersei, Sansa, and Daenerys in moments of dramatic transition. It appears that Game of Thrones will see its primary characters change drastically, even if they manage to survive this season's dangers.
The latest scene doesn't answer any of the mountains of questions we have after Season 5 — it merely shows Sansa and Theon frantically running from Ramsay and his hounds — but it's tantalizing enough to get us jonesing for Sunday to come, already. Will Sansa and Theon get away safely? Will Sansa eventually take the Iron Throne?
Season 6 premieres this Sunday, the 24th, on HBO.