Tyrion Lannister Narrates the Final 'Game of Thrones' Season 6 Teaser
Winter is coming, you guys.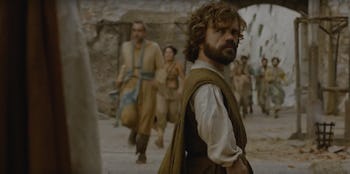 Game of Thrones is now a mad dash to the finish, and last night's teaser shows just how fast-paced the race has become. It features a Tyrion voiceover — "Everywhere you go, someone wants to murder you" — and includes brief glimpses at characters like Bran, Cersei, the Night's King and one of Dany's dragons. Not much of it is revelatory, even if you're breaking it down frame by frame, but it's a show of escalation. All men must die and all miniseries must culminate in a satisfactory fashion.
While HBO's been milking the hell out of the Jon Snow thing, in general, he only shows up toward the beginning of the clip, and there, he's on a slab. At this point — the premiere is Sunday night at 9pm, ET — there's not much more the producers are willing to reveal. Instead, it's something we can all speculate upon while we're running down the clock. There's less Thrones left that we once thought; even though promo fatigue has to be setting in at this point, big answers are coming.
Watch the teaser below.