New 'Game of Thrones' Clips Showcase Cersei, Sansa, and Daenerys 
Three new clips focus on Sansa's escape, Cersei's grief, and Daenerys's transition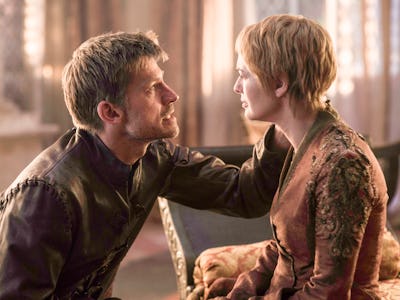 Those involved in Game of Thrones might be as tight-lipped as citizens of the Quiet Isle going into Season 6, with HBO's unprecedented lack of critical screeners, but the show is being surprisingly liberal with its pre-season footage. First there was that clip of Jon Snow that confirmed his return…. or at least, the continued presence of his body. Then came another new trailer. Now we have three new clips to digest. They don't reveal a whole lot, but after a year's wait, we'd be jazzed about seeing Tyrion brush his teeth.
In the first clip, Cersei muses about death and agonizes over Myrcella rotting away. Jaime stands there, presumably feeling awkward for indirectly contributing. by failing to prevent that poisoned kiss. The second clip features Sansa and Theon running through the forest, we assume from Ramsay Bolton and his man-eating hounds. In the third clip, Daenerys enters Vaes Dorthrak, otherwise known as Dorthraki HQ. Check them out below.
Cersei and Jamie in Clip 1
Sansa and Theon in Clip 2
Daenerys in Clip 3
The season begins on April 24th.