Panic at C-Span: Facebook Livestreaming Is the Future of the Presidential Address
Doing the right thing is in POTUS's self interest, so Mark Zuckerberg will get what he wants.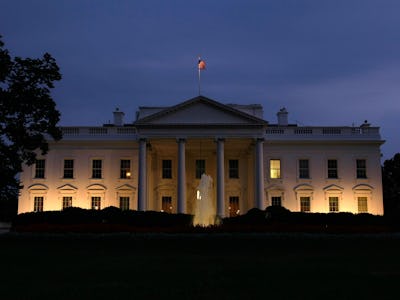 Getty Images
Remember last year when it turned out that loads of people were using Facebook without realizing they were on the internet? Facebook, in people's minds, is just so integral to daily life that it feels more like a utility than an application of a technology. It is an information pipeline that combines the best of radio, the mail, waving at your neighbors, and TV — while largely replacing those things. Until recently, TV would have stood out as an exception on that list, but with the advent of Facebook livestreaming, the platform will exacerbate the cord-cutting trend. In short, Facebook has become the shortest distance between point A and an infinite number of points B.
The media has been scrambling to keep up with the latest Facebook development, but publications aren't going to legitimate the Zuckerberg's attempt at knocking down CNN and Periscope at the same time. The White House will do that. Livestreams are ideal for political addresses and will allow politicians to reach broader audiences both geographically and financially. It is more democratic than TV and people under the age of 35 actually give a damn about it.
Some 31.3 million people watched President Obama's final State of the Union on television. But as of this writing, 6,242,529 people follow The White House on Facebook. If a relatively small percentage of those followers shared the video, it would pass the 31.3 mark in no time. And that's just the one page. Barack Obama's page has over 48 million followers. We're talking about more than doubling or tripling the reach of a live event with genuine political import.
And here's why the move is inevitable: Livestreaming the State of the Union would help the president reach more viewers while simultaneously allowing him to collect more fans and thus increase his reach on a powerful platform. It's in the political interest of whoever occupies the White House to accept an open invitation from Mark Zuckerberg because it is both the right thing to do — in the sense that it is the most democratic approach to broadcasting and doesn't exclude the possibility of simultaneous TV broadcast — and the politically expedient thing to do. And, yes, it has to be Facebook. Facebook has more than 1.5 billion active users each month, a vastly greater number than other livestreaming services like its Twitter counterpart, Periscope.
Zuckerberg himself pointed out that many actors who livestream on Facebook enjoy a bigger audience on the social network than they actually get on TV. Facebook Live was originally geared exclusively toward celebrities when it was unveiled, but was accessible to the masses by the end of 2015. And Facebook's new API affords users greater flexibility with their own live video. You better believe that courtesy would extend, in particular, to the Oval Office.
The weekly radio address could be an event again.
The remarkable thing about Facebook has always been the rapid adoption of its new features. Given Zuckerberg's apparent focus on livestreaming, there's reason to believe video is about to clog American's feeds. One doesn't have to work hard to imagine that the next president is going to be comfortable streaming by the time he or she takes office.
Will our current president embrace the change? Probably. It's no big deal for him. The sky is only falling at C-Span.