Warner Brothers Confirms Ben Affleck is Getting a Standalone Batman Movie
Battfleck will be back in more than just Suicide Squad and Justice League.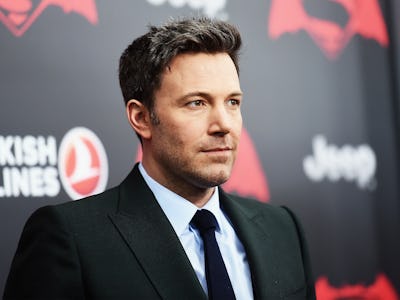 Getty Images/ Jamie McCarthy
Finally, Ben Affleck has something to smile about — after weeks of Sad Affleck ruling the internet in the wake of [Batman v Superman](https://www.inverse.com/article/13200-batman-v-superman-is-a-numbing-smash-and-bash-orgy-of-cgi-mayhem_]'s devastating reviews, Warner Brothers announced that the Batfleck will live during CEO Kevin Tsujihara's CinemaCon appearance.
BvS may have been bad, but it made a shitload of money, so there's no reason for WB to put a cash cow out to pasture just because it was a bloated, ungainly mess. It turns out that fans don't care very much about what critics say, and anyway, Batfleck was regarded as one of the few bright points in Zack Snyder's dark and gloomy superhero smash up.
Better yet, Tsujihara said Affleck might have a role outside of the bat-suit and behind the camera. Tsujihara mentioned Affleck's name as part of a long list of filmmakers who are working to create the DC Expanded Universe on the big screen, so we could get a Batfleck movie directed by or written by and starring the current Dark Knight himself.
Regardless of BvS's failures, DC's universe is alive and well, with plenty of other heroes, like Jason Momoa's Aquaman ready to pick up their own storylines inspired by decades of comics.
DC has successful properties on the smaller screen as well, but Affleck is currently the only live-action version of the Caped Crusader, so it makes sense that we'll see him at the center of a new line of Bat-action soon.