Watch a Tesla Model S Get Stretched Into the World's First Tesla Limo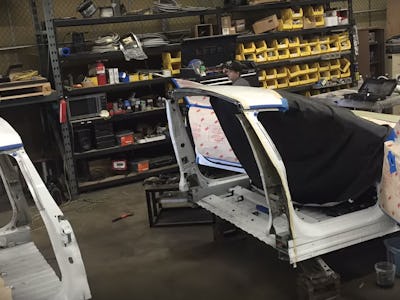 Big Limos
We truly live in an age of extremes. Do you like politics, but wish it was more like reality TV? There are extreme political candidates for that. Do you love technology, but wish you could be the technology? Take a trip down the biohacking rabbit hole. Are you a fan of Tesla and limousines? Let us introduce you to the world's first Tesla Model S stretch limo by Big Limos.
Big Limos is a custom limo maker that has stretched every vehicle from a Ferrari to a Prius. Because why not?
"I was commissioned by a very public anonymous client," Mike Walstrom, owner of Big Limos, told Inverse about stretching a Model S. "It has never been done before. It is also an extremely sought after and desired project, that has created much interest from around the world since I posted those pictures."
First step to making a stretch Model S: saw one in half.
As you can see in the time lapse video, all it takes is a few power tools to split a car from one of today's most-hyped automobile companies.
There's obviously more to creating a functional limo than sawing a car in half and putting some metal in the middle, though, and Walstrom has done a lot of work in the past week since the video was made. All that's left to do is some cosmetic work.
"The vehicle is structurally complete," Walstrom said. "The interior needs to be put in and I'm about a week's worth of work away."
The Model 3 already has a custom murdered-out version, so it's about time the Model S received some custom love.
"Big Limos is not about just stretching limos to the extreme limits," their website reads. "Our custom manufactured limos are built with the highest quality materials, technology, and ideas. We offer our clients numerous special amenities and options, allowing all of our clients the golden opportunity to drive away with a 100 percent custom limousine."
Judging by Big Limos' past successes, you and ten of your friends might soon be able to take on the club in Tesla style. Walstrom said he's already received two preliminary orders, and he will soon be releasing pictures of the finished project. Here's an idea of Big Limos' work via its Instagram: