Facebook Messenger Turns Snapchat Scannable BooR Codes Into Business Tool
The functionality is the same, but the application is vastly different.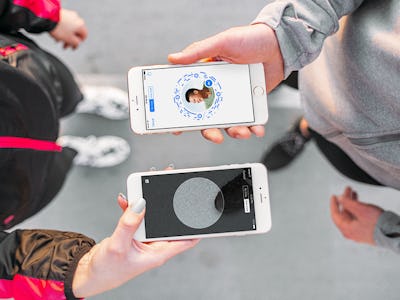 Messenger Facebook Page
The Facebook Messenger app will soon receive a new feature that allows users to create an individualized username and accompanying scannable code (basically a QR code) that many Snapchat users will find familiar. Its applications are, however, much less "cool" and far more business-oriented.
Last year, Snapchat rolled out BooR codes, which make it easier to connect with friends than having to search through complicated usernames. A user simply swipes down on the take-a-picture screen of Snapchat to reveal their code. A friend can then scan it with their phone's camera and Snapchat app to instantly start following them. Screenshots from Tweeted pictures also work.
Although we haven't seen it in action due to a delay in the update that was said to begin rolling out Thursday, Facebook is describing a service that works almost exactly the same way. Circular codes will surround a user's profile picture in Messenger. But instead of having people scan these codes in order to see the latest pics from a friends' debaucherous night at the bar, Facebook wants businesses to make more connections.
"Since traditional phone books are almost obsolete, we're making it easier for you to find the people (and businesses) that matter to you and be able to start conversations immediately with the launch of a simple set of tools that are built for the modern world," Messenger wrote in a Facebook post.
The codes are made to be "beautifully designed," the post explained, such that job seekers and businesses could include them on a business cards for easy network building.
Snapchat's feature seemed to stem from the app's lack of ability to find other users, whereas Facebook's search function is typically quite adequate at finding the person you're looking for based on name, city, and state location. It's unclear if users will prefer to send scannable codes or simply search a name.
However, CEO Mark Zuckerberg noted in his own Facebook post that 900 million people use Messenger every month, so the service is doing something right. With its current status at No. 2 on the top free apps list in the app store, there's a pool of people who may find this feature useful.
But it's businesses that stand to gain the most from the new networking features, which include usernames for Facebook pages. Below a business page title will now be their username preceded by an "@" symbol. (In other words, Facebook is borrowing from Snapchat and Twitter here.) Messenger claims this will make it easier for people with similar names to connect and share their profiles.
"We are all unique human beings but sometimes we share the same name," Messenger wrote in its post. "This can make it hard to know you are contacting the right person when searching for them in Messenger. Now, it's simple to find someone by their very own unique username."