Why Black Canary Dying on 'Arrow' Matters So Much
"Eleven Fifty Nine" claims the life of one of Team Arrow's finest.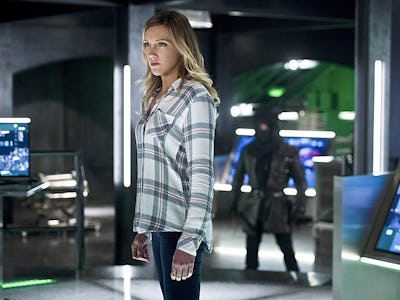 The CW
The following contains spoilers from the episode "Eleven Fifty Nine" of Arrow.
After a season long mystery which I honestly nearly forgot about, Arrow sent one of its heroes to the grave in a tragic but maddening turn of events for the CW vigilante series. In the latest episode, "Eleven Fifty Nine," Laurel Lance (Katie Cassidy), otherwise known as the Black Canary, is now dead. Or is she? (Yeah, probably.)
Last week's reveal that Andy Diggle (Eugene Byrd) was conspiring with Malcolm Merlyn (John Barrowman) to release the villainous Damien Darhk (Neal McDonough) from Iron Heights prison set up a 40-minute crisis of trust between Oliver (Stephen Amell) and Diggle (David Ramsey), before Andy cemented his betrayal and helped release Darhk. With his newfound powers regained, Darhk mortally wounds Laurel, giving her a long enough time to say goodbye.
Laurel never quite fit in as the Black Canary, her sister Sara's superhero identity she inherited upon her (second) death in the show's third season. Even though Laurel is Black Canary in DC Comics myth, in Arrow she somewhat ill-fit in her costume (which I personally never was a fan of). Though she struggled under the mask, outside Laurel flourished, casting off her teary drunkeness in Season 2 and her irrelevant shrill-ness in Season 1. Though Season 3 was around the time Arrow began to falter, it was that time when Laurel grew into her own, becoming a character worthy of admiration and props.
I should have seen her demise coming. "Eleven Fifty Nine" takes great care to set up a life for Laurel post-Team Arrow. She receives both a job offer as Star City DA and recognition as a formidable Black Canary worthy of the mantle. It was all being telegraphed, blaring with horns and neon lights that none of this will end well. But my vision was too narrow, and I was shocked that it was Laurel who wound up in the grave. (I was willing to bet Thea, Oliver's sister, and this is why I never bet on anything.)
But is she dead? Though her goodbye to Oliver on her deathbed — some of the best work Katie Cassidy has done in all her time on Arrow — was tear-jerking and revelatory, it of course added intrigue: "Promise me one thing," she asks Oliver. And we don't hear it. And then, she's dead. Poor Captain Lance. His daughters keep dying.
It doesn't feel quite final for either Katie Cassidy or Laurel, who it should be known is a major part of Green Arrow mythos from comics. I'm not privy to actor contracts and I wouldn't be surprised if Cassidy does want to move on, but there's something I can't put my finger on that is telling me this isn't the end for Black Canary, not yet. That "mysterious" promise is a flashing warning sign this isn't the last we've seen of Laurel. Though the Lazarus Pit is destroyed, I'm sure there will be a way. It should be noted we actually will see Katie Cassidy again, but in The Flash when she guest stars as Laurel Lance's Earth-2 doppelgänger.
But until then Earth-1 Laurel is pretty much dead. Hey, what's Constantine up to?