Comic-Con HQ Will Let You Stream All 900 Hours of It From Anywhere
Seth Laderman on the new digital channel that will stream many Comic Con events.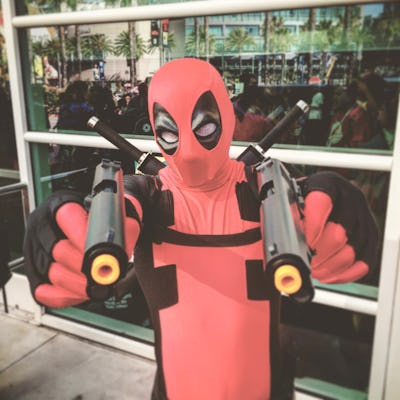 Jason Kempin/Getty
Want to go to San Diego Comic-Con, the annual summer celebration of geekdom in California? Of course you do! But can you? Tickets are sold out and Twitter is having a meltdown about hotels (#Hotelpocalypse), so you can't.
Luckily, Comic-Con International has heard your cries. Last month the convention announced its bold digital subscription channel Comic-Con HQ which will create original programming and curate selected movies and TV, bringing the Comic-Con experience to audiences around the world, every day of the year.
It's a colossal task. Not only because the web is fickle, but because Comic-Con HQ will be the latest in a crowded market. Between Twitch, Machinima, Geek & Sundry, and everything in between, geeky video is a hot commodity, meeting an as yet-uncertain amount of demand. While Comic-Con HQ is fundamentally different than its competition — namely, it's a monthly subscription service — several geek portals have already fallen, and it's telling. Discovery's Rev3Games ceased operations in 2014, and the long-standing GameTrailers shut down last February. What can Comic-Con HQ do differently to not only survive, but succeed?
When I asked Comic-Con HQ EVP and general manager Seth Laderman if Comic-Con is learning from failures, he dismissed the notion. "I wouldn't ever say I'd learn from failures because I'm not a fan of even using the word failure," he explained. "I'd much rather look at what's been successful and capture that."
A veteran of Chris Hardwick's Nerdist, Laderman is prepared to take on the internet again. "I had a chance to learn from Chris Hardwick, one of the most credible and authentic people I've ever worked with," he explains. "To work with Comic-Con and learn what they know about the audience, and just being a fan of the G4s and Geek & Sundrys, we're in this for the long run. We think there's going to be enough the audience will want to be a part of."
In honor of the stream's beta launch on May 7 (Free Comic Book Day), I spoke to Seth Laderman, to get a better sense of the project that's shaping up to be an all-digital CNN — for people who debate Roddenbery versus Lucas rather than Democrat or Republican.
What should everyone who considers themselves a geek look forward to about Comic-Con HQ?
The most exciting part is teaming with Comic-Con International, the ones who put on this amazing event, and make that a 24/7 experience. Having the ability to work with Kevin Pereira and Adam Sessler, two guys from G4 which was my favorite platform — I was so bummed when it went away — being able to take their knowledge and credibility and authenticity and turn that into programming coming out on a daily if not weekly basis.
That's just some of the content. We have other things we haven't announced yet we know the audience is going to love and I can't wait to to talk more about. We've got some great stuff in the works.
It's funny you have Pereira and Sessler, they were some of the biggest names from G4 which people remember fondly. What will they do for Comic-Con HQ?
Kevin knows how to create a news show and we're coming up with a fun, late night style idea which is exciting. Adam, who is intelligent and just a great person to work with, had ideas for gaming, science, [and] comics. It's essentially going to be our Charlie Rose interview-style show, but we're not going to interview people who have been interviewed a million times. We're going to interview people going to Mars, treasure hunters, game designers, comic book artists, the ones that do so much for this community and never get the recognition. This isn't to give them recognition [but] because we personally are interested and excited about it. We think we are creating stuff for us that the audience is going to like, that's how we're going about doing our content.
Is Comic-Con HQ trying to resurrect G4 in spirit, and attract the audience who tuned into that channel?
I don't want to say resurrection, because G4 was its own. It was the first of its kind that catered to us when nobody had and nobody has. I think we're trying to channel some of that, just being connected to the audience. [We're] not trying to be G4, because there's only one G4. What I loved about it, we're trying to take some of that. We're [also] trying to take a lot of what Nerdist and Collider and all these people and publications have become these last five or seven years and be that one-stop shop for all things pop culture.
What about your strategy for Twitch? That site is à la carte in terms of what viewers watch, there's no subscription, and it's the largest geek video portals, period. Have you considered Twitch when forging Comic-Con HQ?
Absolutely. First off, I love Twitch, I'm a huge fan of what they've done and I go on Twitch nearly every day. To compare is tough, we don't want to really compete with anybody. We want to compliment. I want as many people to come to Comic-Con HQ as possible, but the more fan sites there are out there that cater to this audience the better. I just want people to feel safe and comfortable and feel a community, and the ability to get the content that they want when they want it.
One of our big goals is to provide all that content in our space, so people can come here and be able to watch it all at one time, but I don't want to take away from anything anybody else is doing because I want everybody to succeed.
Since we're geeks here, we have to be honest: We kind of don't know what we want. For example, no one wanted Ben Affleck as Batman, but now he's one of the best Batmans ever. How do you make content for an audience that doesn't really know what it wants — until it's there?
That's an awesome question. I will never say I know what everybody wants. I know what I want and my team knows what we want, and the team from Comic-Con International built an amazing event by programming it to what they wanted to see. By doing that, because they are all fans, they built something successful. We are working with Comic-Con on a daily basis, we are programming what we want to see and what we think the audience wants. Will we be right with everything? Probably not, but we're agile enough to listen to and communicate to the audience. We have a really good feel for the audience and we think if it's something we enjoy, we hope they will too.
As someone who's been to Comic-Con, I admit that no matter where I am (when I'm there), I always feel like I'm missing something. It's that big. Is Comic-Con HQ going to solve that during SDCC weekend?
You said it perfectly. We're not just bringing the experience to those who can't make it there, which are tens if not hundreds of thousands who can't attend when 130,000 tickets sell out in less than an hour. For the fans who do not have the ability to see the 800-900 hours of content, our goal is to cover as much [of the convention] as possible and put it up to enhance your experience. When you're waiting in line or having dinner or when you go home after the weekend, you can see those things that you weren't able to.
Will we be able to cover everything? Probably not, but I'm going to have a giant crew and cameras all around town, on the floor, and in the sanctioned activities being able to cover the Masquerade, which nobody ever gets a chance to see outside of being there live, the Eisner awards, which are the Comic-Con awards. We're going to have a great activation outside the Hilton Bayfront, where we're going to have our personalities talking about the news that's breaking and sending to other activations, and bringing the talent that comes to Comic-Con to talk and ask them about the experience.
Describe to me what you intend the user interface and experience of Comic-Con HQ to be like. It's an app, but how does it work? Let's say for example I have it on Xbox.
When you pull it up on your Xbox, it's going to look similar to a lot of other apps because we want people to navigate similarly to other platforms. The web and mobile [versions] we're building right now, they'll have a very comfortable look on the eye but also have a little bit of flair that will show, "Hey, this is Comic-Con HQ." This is a community. This is what we want to bring and show everybody.
What we're working on more than anything is search functionality to show people the amount of content we are going to have in the easiest way. It's going to be comfortable to the eye, and the feel and look as Netflix or Hulu. Those guys are the trendsetters and are the biggest and best, and we really hope to compliment them with a site that is easily accessible and comfortable.