'Vinyl' Introduces John Lennon, Played by Stephen Sullivan, in Episode 8
HBO's most polarizing show has Devon finding a new flame, and snapping Lennon and May Pang.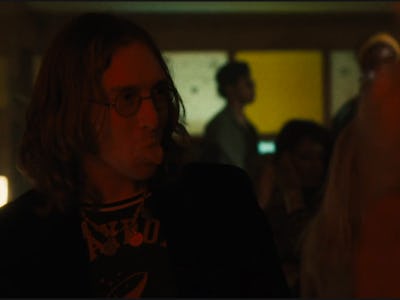 HBO.com/"Inside the Episode"
On Vinyl, the rule has largely been that Richie Finestra's (Bobby Cannavale) activities in (and around) the record business lead to run-ins with caricatures of famous musicians and artists. Last week, the main attraction was Elvis; we've already had Bowie, Led Zeppelin, Buddy Holly and many others. One thought the figures couldn't get any bigger or more obvious. And then John Lennon entered the picture.
Martin Scorsese, Terence Winter, and (definitely) Mick Jagger are always full of surprises — and old friends, which means that they're more than comfortable finding look alikes for the biggest icons in rock. This week's episode focuses heavily on Zack (Ray Romano) and Richie's struggles to recover the thousands of dollars that they lost in Vegas — or rather, that Richie gambled away there — by any sordid means necessary. With Richie out of ideas and remorseful, it's Devon (Olivia Wilde), newly energized and in hiding from Richie, who leads us to this week's impersonations of famous musicians du jour.
As if once wasn't enough (we visited there last time Devon had a stint away from Richie), we're back at the Chelsea Hotel, where Devon has set up permanent residence with the children. The stay is meant, in part, to reconnect her with art, since the hotel manager (we can accept this as a portrayal of long-time owner Stanley Bard, who would have started during this time) wants tenants' "art" to be part of their payment. This stipulation definitely seems a bit overstated, since Devon isn't paying less that what the market price of renting the room (the Bard character asks why, with a Greenwich, CT address on her checks, she isn't staying "at the Plaza"). But then again, Vinyl is really working overtime to make it clear what a hip place this was, and how an entire scene rotated around it. Which is why, of course, we quickly meet both John Lennon (Stephen Sullivan) and Bob Marley and the Wailers — the band is opening for a wet-behind-the-ears Bruce Springsteen — at a concert at Max's Kansas City.
The Bob Marley thing is just silly window-dressing, or a way of cramming in an artist who was culturally relevant at this time for the hell of it — and portray New York as the ultimate creative melting pot (or in the case of Vinyl, perhaps, chintzy fondue bowl). The Lennon addition is more interesting — though also terribly rendered — if only for music nerds. In 1973 and 1974, Lennon embarked on his "Lost Weekend," during which and Yoko Ono were effectively separated. During this time, Lennon was foisted by Yoko, actually, into the arms of the couple's personal assistant, May Pang, as a ploy to encourage him to see other people. Somehow this was supposed to save their marriage, and by 1975, it actually had.
It's a detail that those who don't obsess over the '70s music scene or Beatles lore generally forget. Insofar as anything is admirable about Vinyl, it is moments like these, when the series highlights odd strains in the wider history of this time in music and art, however primitively. Here, Lennon's appearance seems somewhat misplaced: though Lennon did go to Max's Kansas City throughout his life, he and Pang spent most of their time away in Los Angeles to isolate themselves from Ono. In the episode — by adopting Lennon's sarcastic, irreverent sense of humor for a moment — Devon is allowed to snap some photos of Lennon and Pang, two of which are very similar to real photos that were definitely taken on the other side of the country that year.
Fact-checking aside (though this show, by design, constantly baits one to pull up Wikipedia), the show's portrayal of this discombobulated hiatus period in Lennon's life appropriately mirrors Devon's. It suggests that her crisis of faith in her lifestyle and implosions of art-world partnerships were par for the course during this chaotic and exciting time. Everyone wanted to be close to the action, and, in their own ways, stay young and vital. At the end of the episode, she pursued her own affair with a younger man: the mulleted photographer she helped get close to Lennon. As Richie heads for implosion — at the end of the episode, long-term incarceration — Devon barrels toward inevitable disappointment. She builds her dreams high only to be pulled back down again, whether by Richie, some other asshole, the great bubble of the New York art world, or just the weight of the world in general.