What if Elvis Had Gone Punk?
Vinyl's last episode was dominated by a killer Elvis cameo and the tantalizing possibilities of his new musical experiments.
by Christine Jun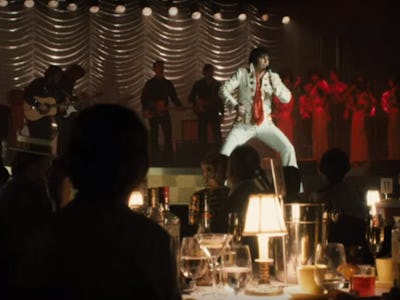 Vinyl's most recent episode was saved by real-life Elvis impersonator Shawn Clush's highly credible stage performance of "Polk Salad Annie," complete with rhinestone-studded hip-swiveling. The Las Vegas cameo also planted the fascinating (and hypothetical) scenario of the King signing on with Richie Finestre's (Bobby Cannavale) record label American Century. After overhearing that Elvis is looking to leave RCA at a cocaine-soaked Malibu party, Finestre is determined to make Elvis an offer he can't refuse. And as a credit to Finestre's incredible salesmanship and charisma, once he manages to get the King alone in his private suite, he almost — almost! — closes his cold-call deal.
For a second, we actually believe that we might be entering an alternative timeline where the jaded, sagging King is headed for a crazy, but undeniably rock n' roll comeback under Richie's guidance.
What would Elvis' new musical direction under American Century have looked like? To start with, the tired Christmas records and crooning to "old ladies" about salad would definitely be out.
"Are you going to die a King?," Finestre demands of Elvis, trying to tap into his sense of self-respect. Through a mixture of flattery and strategy, Finestre appeals to reviving the legacy of Elvis' earlier, hungrier days, suggesting that they record some back-to-basic tunes at Muscle Shoals when Elvis nostalgically reminisces about Bill Black's wicked bass-slapping. Finestre also enthusiastically proposes that Elvis lay down a jam with his proto-punk band Nasty Bits, crediting Elvis as the original source of the raw, energetic new type of rock n' roll that all the hip kids are now playing. He also conjures up a somewhat surreal, though utterly compelling, vision of Elvis as the sovereign of punk rock.
Other what-if musical directions that Elvis could have taken under Finestre's wing surface when Elvis admits that he regrets not playing Woodstock, and Finestre promises him unprecedented artistic license — and even citing Elvis's spirituals as a possibility. Granted, a Marvin Gaye duet wouldn't have been that far off from Elvis's blues-and-soul musical background. Also, the prospect of Elvis's image turning folk-hippy seems more than possible in a scene when both men profess a mutual love for Abraham H. Maslow's New-Age book on self-actualization, The Farther Reaches of Human Nature. Elvis then completes his kung fu moves with the Eastern mantra: "One must be like water."
From there, it's not unlikely that if Elvis had been granted total artistic freedom, he would have at least dabbled with progressive and psychedelic rock in the 1970s. After all, we're talking about the original King of sex, drugs, and rock n' roll, here. Is it too much to imagine a revamped Elvis collaborating and jamming with the likes of Jefferson Airplane and Simon & Garfunkel, much less The Rolling Stones, Pink Floyd, The Who — and if he really did go punk, then with (gasp!) The Stooges? Sure, he'd have had to loosen up — John Lennon once said meeting his hero was like meeting a square like Englebert Humperdink — but that's not impossible.
Unfortunately, we never find out, because just as Elvis is swaying in the seductive wind of Finestre's promises, their meeting is interrupted by Elvis's overbearing manager, the Colonel (Javier Bardem, who turns out to be effectively menacing after his scaredy-cat role in No Country For Old Men). Under the Colonel's shadow, Elvis' transformation is frightening and unsettling, as we witness a brash, frustrated genius suddenly reduced to childish uncertainty and obedience. Richie is sent packing after the Colonel commands Elvis to show Finestre his Bruce Lee move, finished with a long-barreled pistol pointed in Finestre's face.
But the question lingers: what might have Elvis accomplished, with Finestre's help and vision? It's doubtful that relapsing coke-addict Richie could have curbed Elvis's own pill-popping. But Finestre seems capable of restoring Elvis's former confidence, and some of his hope for the king's sagging career. At the least, if Elvis had said yes to Richie, we could expect a little memorialized help from him on some of The Doors' drug, rock-inflected hits.