Both 'Girls' and 'Vinyl' Closed to David Bowie's 'Life on Mars?' Last Night, For Some Reason
HBO's unexpected Bowie two-fer  seems to have been an unhappy accident.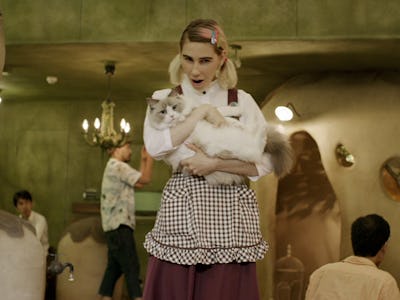 http://www.hbo.com/girls
In a weird turn of events, both HBO's major Sunday night shows prominently featured sparse, melancholic versions of the late David Bowie's iconic 1971 anthem of alienation. It might seem like an intentional Bowie Tribute Night on HBO, but all signs point to the event as being an odd coincidence.
In Girls' "Inside the Episode" (below), Dunham claims the song choice — a version by Norwegian pop star Aurora — was made before Bowie's death. Vinyl's credits began with a "In loving tribute to David Bowie" disclaimer, but the episode, which also features actor Noah Bean playing Bowie and performing "Suffragette City," was filmed in mid-2015 by Bean's account in The New York Times.
It's unlikely that the episodes were coordinated to air the same night; since both shows are tightly serial, it would have been difficult to rearrange elements. No HBO representatives have clarified any coordinative attempts, so all signs point to the "Life on Mars?" double-up being an odd fluke.
It's a shame that the network's Bowie hat-doff had to come on one of their worst nights of programming — I'll leave Togetherness out of this, though that also wasn't much to celebrate — in recent memory. Also, the use of the song, in both cases, was suspect, and something much less than powerful. In Girls, the song is used to reflect Shoshana's (Zosia Mamet) feelings of "otherness" and alienation during her life in Japan, which the show has pretty richly emphasized to the point of cultural exploitation for the past two episodes. The Jesse Peretz-directed episode ends with a long walk into a darkened alley, after Shoshana confessed her grief to her ex-boss (Aidy Bryant), atop the accented, fragile strains of Aurora's voice. The dramatic moment comes just a couple of scenes after Bryant's character claims that Japan reminds her of "the inside of Katy Perry's vagina."
As if Girls' version wasn't #whitepeopleproblems enough, Vinyl intercedes, wringing even more excruciating overtones out of the song. On the show, Bowie's song is used to mirror the doldrums of Zack (Ray Romano) and Richie (Bobby Cannavale), whose personal and professional lives are crumbling. Vinyl's version, notably, was recorded by Trey Songz for the show, but on the show, a pompadoured white actor mouths the words and mimes playing the piano in the aftermath of Zack's daughter's bat mitzvah. The montage, in microcosm, just represents what a true mess of bad taste and laughable melodrama the Martin Scorcese/Terrence Winter/Mick Jagger show has become, especially in recent episodes.
Often, songs used for emphasis in prestige television shows can be almost comically self-important; Mad Men, in particular, solidified this as a trope in serial dramas. But if you thought Don Draper zoning out to that super-expensive "Tomorrow Never Knows" cue in season 5 was bad, it's got nothing on these two very untimely, truly soulless Bowie montages. For shame, HBO.