David Bowie's Career Defied Narratives, Moved In and Out of Time, Transcended the Job Description of "Pop Musician"
Remembering one of the most legendary careers and personalities in the history of music and art.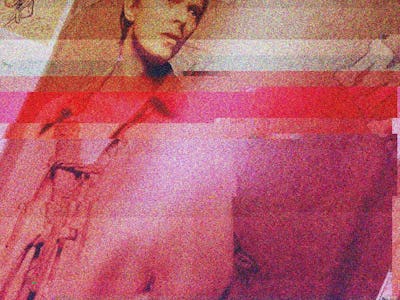 Bowie Facebook page
David Bowie — the inimitable British-born singer/songwriter who consistently and irrevocably changed and predicted the future of popular music throughout a career that lasted just under 50 years — passed away last night from an undisclosed type of cancer. His publicist clarified that he had been suffering from symptoms of the disease for the past year and a half.
The tragedy came while the reviews were still rolling in for his 25th album, Blackstar, an outing of seven genre-bending, long-form songs, which is worthy of being held up against his best work. The news comes like a blinding flash, forcing the album's strangely sinister and sentimental libretto — as beautiful and cryptic as any he ever wrote — take on a new meaning. A report from Bowie's career-long collaborator and producer Tony Visconti confirms that this final curtain was intended by Bowie. There is a rich and strange permanence to the sound of the album — and the look of its surreal associated video clips — which make it a fitting and absolutely heartbreaking end to one of the most remarkable careers in the history of recorded music. It is an out-of-time and eternal statement which sounds not quite like the future or the past, but definitely thoroughly of himself and unforced.
It's hard to reduce such a multivalent career — and certainly a fraught and endlessly tangled personal life — into a clear throughline. Indeed, it always seemed like Bowie was looking toward the next thing when he was in the middle of another, trying to blur the lines and widen the narrative.
The spark which ignited his career came when the young Bowie — born David Robert Jones in 1947 — became interested in theater while trying to distinguish himself as one of scores of British musicians in the mid-to-late-'60s, when he and many of his fellow Anglo rock 'n' rollers were still experimenting with amping up blues covers. The androgynous alien rock God and wry social commentator Ziggy Stardust — realized across the 1972-73 albums Ziggy Stardust and the Spiders from Mars and its more progressive and sprawling follow—up Aladdin Sane — was the result, an outgrowth of themes of space travel and alienation that had helped him break through in the UK in 1969 with his first chart hit, "Space Oddity." On these albums, he synthesized the folk and harder rock sensibilities of his first two albums to create a highly dramatic, extroverted sound that conjured the impression of "rock opera" before the term existed.
"Glam rock" — the term that came to distill what Bowie did in the first half of the 1970s — would be the first but not the last musical movement he would help to accidentally define. If he had presaged punk with 1971's Lou Reed-tinged "Queen Bitch" from Hunky Dory and "Rebel Rebel" from 1974's Diamond Dogs, just a few years later Bowie was looking forward to where music would be in that genre's aftermath. He mixed disco-inspired rhythm sections with hazy swatches of atmosphere, avant-garde jazz, and musique concrete on his inimitable "Berlin trilogy" of albums, some of the most beloved and enduring experimental work in the history of rock 'n' roll.
Much of this music imagined the sound of "downtown New York" mutant disco and no-wave of the early '80s before it existed. The sound was the twisted extension of the period Bowie spent absorbing blue-eyed funk with albums like Young Americans in the mid-'70s and then subsequently turned inside out with his Weimar-cabaret-influenced turn as the "Thin White Duke." In that wraith-like disturbing disguise, he both courted the most notorious controversy of his career by toying with Fascist symbolism, and made one of the most brilliant albums made by an artist who later claimed to not remember making it: 1976's transitional masterpiece Station to Station.
A mix of sophisticated electro-pop and fully functional club music led Bowie — who wanted to be both grounded and absorbed in the pop music world of the MTV era and outside of it, in a universe of full-on experimentation — to the heights of international commercial success in the '80s. With 1983's Let's Dance album, his attitude, crack backing band — few rock bandleaders were ever as single-minded and detail-oriented as Bowie — and impeccable songwriting of this period distinguished Bowie from pop contemporaries working in a similar style.
His acting career during this time made him even more ubiquitous, yielding several excellent roles, from a turn as an aging vampire in Tony Scott's 1983 The Hunger to his iconic role as Jareth the Goblin King in left-field Jim Henson fantasy vehicle Labyrinth.
David Bowie was always being inspired by someone, and this was always part of what made him so relevant. There was never a risk of a musical personality as strong and fully formed as Bowie's turning up something that could be called "derivative." Self-referential post-mortem diagnoses of past music and alter egos came through his career in both enduring hits ("Ashes to Ashes") or more elusive tracks (1999's "The Pretty Things are Going to Hell"); these always seemed almost like ways of taking stock of himself, so he would never lose perspective on what he was creating. He invented the idea of constant stylistic and persona-based rebooting, while making it clear that obscuring one's fundamental musical personality — or even subverting clear instincts — was always a mistake.
Bowie returned to a baseline of fairly straightforward "rock" music throughout his career and rarely abandoned typical pop music songforms entirely. Still, he never stopped listening to what was going on around him, and pulling it out at the seams. In the '90s and early '00s the preoccupations for Bowie were breakbeat electronica and eventually industrial music. He mixed with these gothic, avant-pop sensibilities of one of his perennial heroes since the late 1970s — the reclusive Scott Walker, whose "Nite Flights" he covered in 1993 — skronk jazz, and other disparate reference points. As usual, it all came out sounding like no one but him.
After a 11-year hiatus from studio recording came The Next Day, a convincing and well-crafted return to the median of Bowie-ism. It seemed the possible beginning of a whole new vector in Bowie's career: the elder statesman doing something more subversive than resting on laurels, without doing anything unbecoming. In the following two years, the announcement of the musical Lazarus and the Blackstar album seemed to indicate that Bowie was priming to make another run at it in his 60s, giving back both a little of the sound of his music throughout the '70s, as well as a new kind of somber, muted avant-gardism that felt unfamiliar in his catalog.
Knowing now that Bowie was, for much of the making of Blackstar, looking for a fitting conclusion is both debilitatingly sad for his fans, and makes us find some comfort in the fact that his final, concise missive was so concerted and powerful. According to Visconti, things went according to Bowie's final plan. But this doesn't make this loss feel any less dumbfounding and heartbreaking. Bowie's warm influence still extends across every genre of popular music and beyond it, and it's hard to imagine a time where it won't be.