First Image of Negan in 'The Walking Dead' Revealed
Jeffrey Dean Morgan plays the big bad.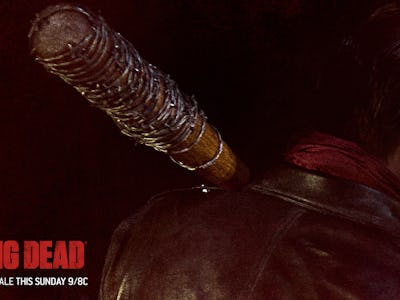 AMC
At last, Negan is coming. AMC just released the first image of Jeffrey Dean Morgan as the ultimate villain of post-apocalyptic Georgia in the hit zombie drama The Walking Dead. Negan — along with his beloved baseball bat wrapped in barbed wire, Lucille — will make his first appearance in the Season 6 finale of The Walking Dead this Sunday.
Morgan as Negan is going to be, pardon the pun, killer. Morgan knows how to play unhinged yet in-control characters, evidenced in his awe-inspiring take on The Comedian in Zack Snyder's Watchmen. Morgan is a powerhouse, and I can't wait to see him become the absolutely maniacal Negan, who in the Image Comics series by Robert Kirkman, murders without mercy and exploits the zombie apocalypse.
Spoiler Alert: In The Walking Dead comics, Negan brutally beats Glenn to death in front of Maggie and the rest of Alexandria. Considering The Walking Dead already played that card with Glenn, anyone else is likely to get a Louisville slugger to the skull. Probably not Rick, and definitely not Daryl, which this week's episode all but confirmed.
The Walking Dead airs its Season 6 finale this Sunday on AMC.