First Look at Negan in 'The Walking Dead' Promo Is Crazy Accurate to the Comics
Negan and his lovely monster Lucille make their debut in a German TV trailer.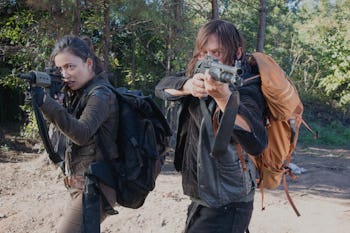 AMC
Batter up. Negan, the true big badass of The Walking Dead who makes life hell for everyone in the comic book series is about to debut in live-action played by Jeffrey Dean Morgan in AMC's series. In a Dutch television promo for this season's finale, Morgan makes his first appearance as the terrifying maniac, though, of course, he's a little obscured.
But you don't even need to see his face to feel a sense of terror. There's a scary good look at Lucille, Negan's signature baseball bat wrapped in barbed wire. In the comics, Negan brutally murders Glenn with Lucille in The Walking Dead #100, a notorious and particularly graphic scene — even by gory Walking Dead standards. Glenn's comic-book murder was brought up a lot when Glenn "died" earlier this season. Could Glenn die "again" when Negan finally rolls up, or is someone else meant to get a Louisville slugger to the skull?
Also interesting is a close-up shot of Carol's rosary. Carol took off this week in "Twice As Far", but it's obvious she won't be gone for long. But who's hand is that carrying the thing? Carol is one of the most guessed murder victims when Negan finally arrives, so it's not looking great for Alexandria's best cookie baker.
The Walking Dead airs Sundays on AMC.