A Piercing Shock Hits 'The Walking Dead'
Episode "Twice As Far" sees two of Alexandria's liabilities test their metal before the nightmare comes.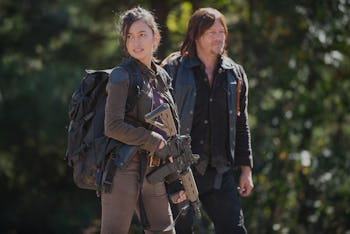 AMC
Spoilers for The Walking Dead are below.
Towards the end of the low-stakes episode "Twice As Far," Denise (Merritt Wever) sums up the reigning rule of The Walking Dead: Risks are necessary. She passionately tells Daryl (Norman Reedus) this seconds before an arrow pierces her skull.
The Walking Dead has a habit of quieting audiences with introspective, self-reflexive themes before blowing shit up. Just last week, Carol (Melissa McBride) and Maggie's (Lauren Cohan) hostage situation under the Saviors was an hour of The Walking Dead ruminating on faith before unleashing hell. It happened again in "Twice As Far," a tame hour where two scouting parties — Daryl, Rosita (Christian Serratos), Denise, and Abraham (Michael Cudlitz) and Eugene (Josh McDermitt) — enter the zombie-filled wild. Denise and Eugene, each party's weakest links, throw themselves into the fire just to prove something. It ends with mixed results.
Hilltop was a wake-up call. Establishing a relationship with farmers who aren't fighters that are subject to the monstrous Negan (Jeffrey Dean Morgan, who has yet to show up on screen) seems to have motivated everyone in Alexandria to step up in the way only Rick (Andrew Lincoln) and his group can. Denise, who isn't physically fit for the apocalypse, and Eugene, whose cowardice has cost much in the last few years, both scout as an excuse to "grind," which is basically a tactic World of Warcraft gamers use to boost their skills so they're prepared for the big boss battle. And the biggest boss is coming to The Walking Dead very, very soon.
For those trying to keep track, here's a quick guide:
Denise is dead after Dwight's arrow to the eye, so Alexandria is out of a doctor.
Eugene lives after gnawing Dwight in the dick, which levels him up, to "freaking Savage."
Daryl has his signature crossbow again, which was stolen by Dwight earlier this season.
Carol is gone. Not dead, but gone. With all signs pointing to her imminent death after her satisfying episode last week, The Walking Dead has pulled a "Gotcha!" and gave Carol a safe exit. For now, at least.