7 Blazing 'Voltron' References in Hip-Hop
From days long ago, some of the nerdiest rap artists dropped the mic.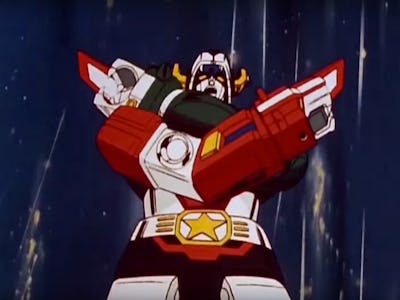 YouTube.com/DreamWorks TV
Anime and hip-hop: two things that couldn't be more different and yet the mediums share an unbelievable number of fans. Titled Beast King GoLion in its native Japan, Voltron was one of the first mainstream anime to rock the U.S. in the '80s. An entire generation of young musicians and rappers watched five color-coded pilots combine giant robot lions to battle Zarkon and his evil alien army, week after week.
And it's coming back. DreamWorks Animation, with the enlistment of The Legend of Korra show runners Joaquim Dos Santos and Lauren Montgomery, will reboot the classic show in Voltron: Legendary Defender, a CGI/traditionally animated hybrid series premiering on Netflix June 10th.
But in a way, Voltron never left. The Super Robot anime was an indelible part of Gen-X nostalgia, and modern music, from ska to grindcore, incorporated forming heads and Blazing Swords into their lyrics. Hip-hop, more than any other, understood the power of comparing oneself to the dopest pilots in the galaxy.
Here are just seven of the best references to Voltron in all of rap music.
Eminem, "Just Don't Give a Fuck"
This is a lyrical combat, gentlemen hold your pistols / But I form like Voltron and blast you with my shoulder missiles
Nelly, feat. Murphy Lee and P. Diddy, "Shake Ya Tailfeather"
I'm not hard I've got women to handle that / They be like he the man when I'm really a Thundercat / Come on you know the 'tics connect like Voltron / Collect so much grass popo thinking we mow lawns
Bonus Murph: Here's the St. Lunatic talking about his Voltron fixation in depth:
Slaughterhouse, "Sound Off"
You herbs we merged, we're an alliance / We fight fire with flame-throwers, why would you try us? / We a outfit, equivalent to Voltron's / That boy Crooked I's equivalent to four arms
Wu-Tang Clan, "Shame on a N*gga"
Brothers approach and half step, but ain't heard half of it yet / And I bet you're not a fucking vet / So, when you see me on the real, forming like Voltron / Remember I got deep like a Navy Seal
Juelz Santana, "The Second Coming"
They say a family that plays together, stays together / And one that walks apart just falls apart / So, together we stand, divided we fall / United, we form Voltron and take on all
Jedi Mind Tricks, "The Immaculate Conception"
The decaton / The higher arc modron / Encompass my soul in a beam like proton / I am Voltron / With helmeted head and lotus flower, incantations / Wind walking teleportations
MC Frontalot, "I'll Form the Head"
Uh, the whole song.
And of course: Goodie Mob, Mack 10, Fat Joe, Common, Afrika and Bambaataa in the G.O.A.T. Sprite commercial.
Voltron: Legendary Defender will spit bars on Netflix on June 10.