Netflix Scores with Guillermo Del Toro's 'Trollhunters,' Fumbles 'Voltron'
A deal with DreamWorks Animation is a mixed bag for Netflix.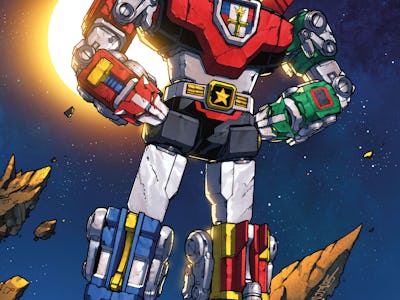 Dynamite Comics
Netflix is very serious about its original content, as if Narcos and Making a Murderer and a handful of other productions hadn't made that clear. But now in 2016, Netflix is showing its seriousness with cartoons. In an expansion of their existing multi-year partnership with DreamWorks Animation, Netflix will distribute new animated shows, among them an adaptation of Guillermo del Toro's young adult fantasy novel Trollhunters and a reboot of the 1980's mecha anime Voltron.
The new agreement, according to The Hollywood Reporter, will result in new shows "based both on recent and upcoming" DreamWorks Animation movies. Netflix and DreamWorks first partnered in 2013, which resulted in family-oriented shows like Turbo FAST and DreamWorks Dragons, both spun from DreamWorks' animated films.
Guillermo del Toro's Trollhunters is a great fit for the new deal. An adaptation of del Toro's novel published last June, Trollhunters was already in a picture deal with DreamWorks back in 2010 while the filmmaker was writing it. The Oscar-nominated director hoped to helm the animated feature alongside the book's release.
Trollhunters looks essential del Toro, who loves to fuse childlike wonder with dark fantasy like Pan's Labyrinth.
"I wanted very much to develop a story that could be written for kids but dealt with a genre that was scary," he said about Trollhunters in a 2010 interview with THR.
Meanwhile, the Voltron reboot raises a lot of questions. Is the show's audience of 30-40 year-olds willing to sit through a new cartoon? Why isn't a live-action adaptation considered? Don't say budget, because the long-running Ultraman series is an instruction manual for large-scale and cheap special effects.
First airing in 1984, Voltron — an English dub of the Japanese anime Beast King GoLion — followed the adventures of five pilots who commanded individual robotic lions that form one giant machine, Voltron. Though a hit in the '80s, the franchise has flubbed with kids today; the 2011 sequel series Voltron Force was cancelled after two season on Nickelodeon, and most of that show's toys have disappeared. The only merchandise available evoke the original series which clearly target an older audience.
Voltron is overdue for a live-action imagining, because kids simply aren't connecting with cartoon lions anymore. And it seems DreamWorks had thought of that: In 2012, DreamWorks acquired Classic Media's library (which contained Voltron) and a year later its CEO Jeffrey Katzenberg told the press the company has "big plans" for Voltron, stressing the aim is to "take every one of those franchises and reinvent them." Wouldn't a live-action Voltron be that kind of reinvention? Adults might respect animation, but they crave something tangible. Marvel's live-action Daredevil and Jessica Jones have been a hit with adults on Netflix, so it's a wonder why a project that targets a similar audience is aiming differently.
Once upon a time a major Voltron movie was in motion, but since 2011 the project has languished in development hell despite a fierce bidding war for the project's dibs.