Who is Mason Wells, the Teen in Boston, France, and Brussels During Terrorist Attacks?
This 19-year-old Mormon missionary was injured in Brussels, but was near two other past terrorist attacks.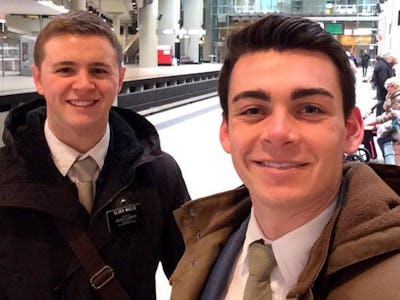 Joseph Empey/Chad Wells via AP
Mormon missionaries find themselves in the most unusual places as they proselytize all over the world. None more than Mason Wells, a 19-year-old, Sandy, Utah, native that was present at three of the most major acts of terrorism in recent years. He was there when the Boston Marathon was bombed, in France near Paris at the time of the attacks, and this week, he was badly injured in Brussels at the airport explosions.
Wells graduated from Lone Peak High School and had four months left on his two-year Mormon mission before the incident in Brussels. He was planning to major in engineering at the University of Utah next fall and had plans to reapply to the U.S. Naval Academy, according to his father.
He was actually with his father when he witnessed the Boston bombings in 2013. They were watching his mother run the race, a block away from the blast, when they felt the ground shake. At the race, he was interviewed by CNN's Wolf Blitzer.
On November 13, 2015, he was two hours away from Paris during the tragic attacks. This past week, the violence that seems to follow Wells ended up injuring him quite badly. He was at the Brussels Airport with three other missionaries when he faced a wall of fire about 40 feet away.
"I believe my body was actually picked off the ground for a moment and my iPad which was in my hands I didn't know what happened. It just disappeared. I think it might have actually hit me in the head when it got blasted out of my hand," he told the AP from his hospital bed, swathed in gauze. "My watch on my left hand just disappeared. My left shoe was just blown off. A large part of the right side of my body got really hot and then really cold. I was covered in a lot of fluids, a lot of blood and a lot of that blood wasn't mine." He managed to make it to an exit where he received medial care.
"I was so lucky. I was so lucky being how close I was and I saw a lot of people that were injured worse. I heard a lot of people that were injured badly," the missionary said. "I hope they're doing OK. I just wanted to pray for them. I've been praying for them since it happened. That's the only feeling I have is that I hope they're OK 'cause I'm very lucky and I know there are some who aren't as lucky as I was."
"Hopefully, he's run his lifelong odds and we're done," Chad Wells, his father, also told the AP. "I think it will make him a stronger person. … Maybe the Boston experience was there to help him get through this experience."
The younger Wells has burns and a severed Achilles tendon, but is convalescing in Ghent and expected to make a full recovery.