ISIS Claims Responsibility for Brussels Attacks
The terrorism analyst group's director Rita Katz tweets that ISIS wanted to take revenge on Brussels.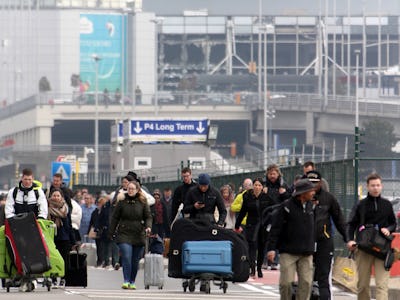 Sylvain Lefevre / Getty Images
Investigations are now well underway after two bomb explosions today at Brussels International Airport and another at Maalbeek metro station in Belgium's capital. And it's just been confirmed that Islamic State fighters carried out the attacks
The claim was posted on the group's official Telegram — a messaging service that has scrubbed ISIS accounts in the past:
"Islamic State fighters carried out a series of bombings with explosive belts and devices on Tuesday, targeting an airport and a central metro station in the center of the Belgian capital Brussels, a country participating in the coalition against the Islamic State.
Islamic State fighters opened fire inside the Zaventem airport, before several of them detonated their explosive belts, as a martyrdom bomber detonated his explosive belt in the Maalbeek metro station."
Terrorism analyst Rita Katz, director of Search for International Terrorist Entities (SITE) Intelligence Group, which monitors and analyzes online terrorism activity, posted before this admission that ISIS was involved in the attacks, sharing screenshots of ISIS accounts that indicated its involvement.
She posted this screenshot of ISIS social media accounts and channels that posted campaigns for the attacks in Brussels, tweeting out a post that stated: "Today the State of Caliphate [#ISIS]… is taking revenge #Brussels #Belgium."
Back in 2014, SITE claimed that it had received the video of the beheading of American-Israeli journalist Steven Sotloff. Katz said in an interview with CNN:
"We have been searching the Jihadist threat online for over a decade. We follow their steps, monitor their activity, and study their activities online. Anytime al-Qaeda or ISIS become more and more sophisticated and adopt new tech, we follow that technology and study their techniques by doing that we can predict where they might be uploading the videos online."
Katz co-founded SITE Intelligence Group with Josh Devon in 2002. The company analyzes corporate records, tax forms, credit reports, video footage, and internet news, picking up any signs of illicit terrorist activity. It's not without its critics though, who say SITE doesn't have the power of a government agency and that it offers too great a platform to the claims of terrorist groups.
The attacks on Tuesday morning in Belgium left at least 34 dead and approximately 170 wounded. The Islamic State fighters opened fire inside Zaventem international airport before detonating the bombs with explosive belts and devices.
Something like this was expected, as Salah Abdeslam, the major surviving suspect in the November Paris attacks, was arrested last week and expected in court on Thursday in Brussels. "He was ready to restart something from Brussels," Belgium's Foreign Minister Didier Reynders, said over the weekend. "That is maybe the reality, because we have found a lot of heavy weapons and we have seen a new network around him."