Apple's First Original TV Show Will Be About Apps
You can download a show about apps on your iTunes app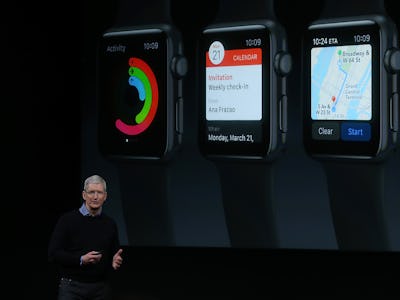 Getty Images/Justin Sullivan
At the end of 2015, Apple announced it will hop on the content bandwagon and concieve its own original programming, joining the ranks of Netflix, Amazon, and other major streaming services. After months of speculation, the company announced its first official shot at the market, with a show that also serves (conveniently) as an advertisement: a non-scripted show about apps.
On Thursday Apple revealed it has been working with Will.i.am and TV executives Ben Silverman and Howard T. Owens to develop an original series that will explore the ever-expanding app economy. This marks Apple's first original programming effort beyond music — it compiled a documentary-type feature on Taylor Swift's "1989" World Tour last year and released an exclusive interview with Adele, among other tries. The announcement seems to corroborate rumors that Apple wants to significantly expand its film and TV original programming. But Eddy Cue, Apple's senior vice president of Internet software and services, said, "This doesn't mean that we are going into a huge amount of movie production or TV production or anything like that."
There's barely any information about the upcoming show, which makes speculation difficult. But maybe the show will just be a virtual walk-through of Apple's app store, which you can always just find on your iPhone. Maybe it will be a weekly series that explores a new and exciting app available, or maybe it will be more wide-reaching, about how apps influence culture on a global scale. Whatever the case may be, we can all take a deep breath because technology aficionado and visionary Will.i.am is helming the project.