Everything You Need to Know About Apple TV's tvOS9.2, Announced Today
The update is available today.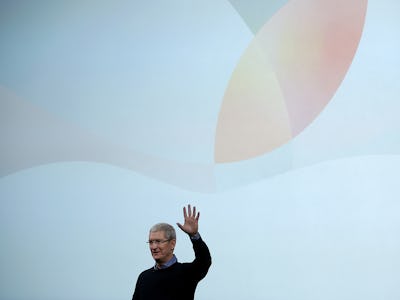 Justin Sullivan/Getty
At today's "Special Event" for its new products and software, Apple CEO Tim Cook announced that Apple TV's latest operating system — tvOS version 9.2 — would be available immediately. That means Siri dictation, iCloud photo syncing, and (score!) folders for the ever-growing list of apps you'll be able to download with the fourth generation of Apple's little black box.
"Apps are the future of television and this transition is well under way," Cook said. There are 5,000 apps on the Apple TV store, including HBO Go (where you can watch the show Silicon Valley, Cook recommended), the Solar Walk 2 app that "turns your living room into a planetarium," and the food-delivery service GrubHub. Apple TV also exclusively offers NCAA March Madness Live, where fans can watch two tournament games at once.
With this third generation of tvOS, all those apps that previously cluttered your home screen can be neatly categorized into folders — like on iPads and iPhones. The update also links Apple TV with iCloud photo library and Live Photos — short video clips recorded before and after taking a photo — when before it could access Photo Stream images that eventually expire.
Apple TV syncs all your content stored on your iTunes account, as the tvOS operating system casts content to TV screens. Before, you would have to control the Apple TV with the Siri Remote or Apple TV Remote, tapping the little touchpad to input characters. The new update to tvOS has Speech-to-Text abilities so it won't take forever to log in to your account.
Cook said that "tvOS powers the Apple TV and at the heart of the Apple TV experience is Siri. With Siri you can just ask for something great to watch." He then asked Siri to find movies with the comedian Kevin Hart. "Siri searches apps so you don't have to."
Even though Apple TV's revenue was only $1 billion in 2013 (an almost insignificant chunk of Apple's earnings when you compare it to the $88.4 billion the iPhone made in 2013), Cook reported that Apple TV had the largest sales ever after the last quarter.
This event also marked the return to smaller iterations of Apple products as Tim Cook and his Apple colleagues also presented a new 9.7-inch generation of the iPad Pro and the 4-inch iPhone SE. The tvOS 9.2 update is free and available to download today.