Apple's Tim Cook: "We Owe It to Our Customers and We Owe It to Our Country"
The Apple CEO addressed the company's very public duel with the FBI immediately.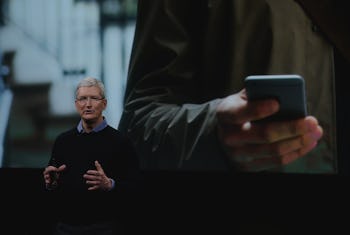 Getty Images
Apple CEO Tim Cook wasted no time today in addressing his company's pending legal dispute — or ongoing ideological war, depending on how you look at it — with the federal government and the FBI. And, true to form, he did not relent in his opposition to the government.
A video montage opened Apple's product event, which precedes Apple's 40th birthday on April. The montage highlighted the company's innovations throughout its history. Then, Cook, wearing a black sweater with a blue collar peeking out from beneath, wandered onstage, to much applause.
Cook mentioned that Apple's entering quadragenarian territory, turning 40, announcing, "Recently, we passed a major milestone that no one could've ever imagined: There are now more than one billion Apple devices in use around the world." With that milestone, Cook said, comes a significant responsibility — a blatant segue, but a good segue, into the situation "on the minds of everyone."
"We built the iPhone for you, our customers," Cook said. He explained, further, that both he and Apple understand that the iPhone is a "deeply personal device," an "extension of ourselves."
He continued:
"About a month ago, we asked Americans across the country to join in a conversation. We need to decide, as a nation, how much power the government should have over our data and over our privacy."
"I've been humbled, and deeply grateful, for the outpouring of support from Americans all over the country — from all walks of life.
"We did not expect to be in this position: At odds with our own government. But we believe we have a strong responsibility. We owe it to our customers and we owe it to our country. This is an issue that impacts all of us and we will not shrink from this responsibility."