Apple's Expected to Go Small at Today's Product Event
Smaller phones, new iPads, and faster laptops are all possible announcements.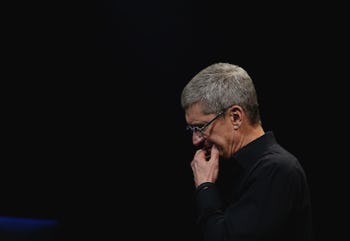 Justin Sullivan/Getty Images
Apple's spring launch event is rumored to feature iPhone and iPad updates, and will go down in the shadow of its ongoing court case with the FBI over encryption.
While last year's spring event was a big year in terms of products — the Apple Watch and the higher-resolution, thinner MacBook — this year should be a tamer affair, court case or not. Apple users can expect some software updates, a smaller iPhone, new watch bands, and a new mid-sized iPad.
Let's dive into the most anticipated announcements expected out of today's event, set to stream at 1 p.m. Eastern time.
New iOS Software
With nearly 94 million iPhones already in circulation in the United States., iOS updates definitely have the largest reaching effects on consumers.
There are a few tweaks that should make life easier. Chief among them is an expected new feature called "Night Shift" which turns the screen into an orange hue instead of the bright blues typically illuminating the screen. The feature is suppose to be easier on the user's eyes and help realign circadian rhythms, which can be thrown off by our constant staring at screens, especially at night. Apps such as f.lux offer similar features for MacBooks, but it'll be nice to have full integration on phones.
Built-in apps will also get more 3D touch integration such as bluetooth, wifi, and battery quick options in the settings app. Weather, Fitness, and iTunes apps are also expected to get more 3D touch integration. The App Store is also expected to allow users to update all their apps from the quick options drawer.
Also expected:
Apple News will see improvements, including changes to its predictive algorithm in the "For You" section that the company says will deliver better articles suited to user's specific tastes. Videos will also be supported in landscape mode for using all of that screen realty.
The Notes app will soon allow users password protection through a numerical code or Touch ID, which is welcome news to forgetful note takers who need to store sensitive information.
TvOS and OS X will also get updates but it's largely under-the-hood improvements to fix bugs. These sorts of software updates usually rollout relatively quickly following the spring event.
A Smaller iPhone
Some people love big phones and others hate them. The iPhone SE is for the latter.
The new phone is rumored to hark back to the iPhone 5s design with a smaller screen — but rumors here are conflicting: The screen will either have the ever so slightly curved edges of the iPhone 6s or it will have a slightly more boxy feel like the 5s.
Either way, it seems the internals of the phone will be up to modern standards and offer a good alternative to the sliver of the market who think both the iPhone 6s and 6s Plus screen increases were too big.
It's also rumored to cost a more mid-range price of $400 or $500 off-contract. That's compared to the iPhone 6s's $649 off-contract price.
It's not a revolutionary device by any stretch, but for Apple fans put off by the larger sized phones released by the company lately, it'll be a welcome change.
iPad Air Pro Mini
Much like the MacBook Pro, iPads are rumored to consolidate under one name and offer a wider range of options. So iPad Pro will likely no longer serve as the catch-all name for the very large iPad, but rather serve as the name for all new models of the device.
The new line of iPads should bring updates to the formerly named iPad Air and iPad Mini devices, bringing many of the improvements Apple brought to the iPad Pro in September. That means four corner speakers, Apple Pencil support, and an attachable keyboard. The 9.7-inch model is rumored to get a better camera as well, matching the one found in the iPhone 6s.
Tablet sales have leveled off in 2015, but for those still in the market for a high performance tablet, there's a good chance this will become a popular option.
MacBooks
Here's where the surprises will be abundant. The rumor mill has produced far less information about what to expect from the company's laptop lines, and what we do know may still be saved for a later announcement.
The MacBook Air was updated around this time last year so history says we'll see another improvement this year. It's the only model MacBook that doesn't offer a retina display so that's the likely next step for the line, but a major design change could be around the corner as well, given that it hasn't been overhauled in eight years. More drastically yet, the company could decide to fold the whole line into the singularly-named MacBook, which was announced with its one USB-C port last year. We'll find out.
MacBook Pros are more likely to be the focus of any laptop announcements, however, as the company's high-end offering, these improvements are likely to be more internal such as a faster processor.
Apple Watch
There will be new straps. Remember, they promised to "loop you in," after all.
If none of this catches your eye, you'll be pleased to know the iPhone 7 is rumored to come out in September.