Self-Driving Buses Take Dutch Streets in May
Despite their limited use, these mini buses give us a glimpse of the future.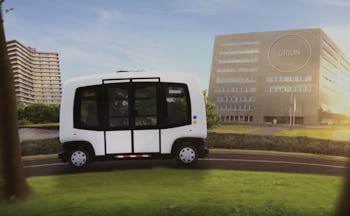 wepods.nl
While the focus of self-driving cars tends to be on personal vehicles from the likes of Google and Tesla, as well as ride sharing programs from Uber and Lyft, public transit isn't completely forgotten, as one Dutch university is implementing driverless buses on its campus in May.
Dubbed WEpods, an abbreviation of Wageningen and Ede, two towns in the south-central province of Gelderland, Netherlands, the buses can transport six people at the blistering (but safe) speed of 15 mph.
They look a little like Mini's attempt at a bus, in that it very much has a familiar bus look — just smaller.
But the important thing is that they seem to work, and without the backing of a big tech company. The local government reportedly approached Google about using its driverless car technology, and not surprisingly was turned down.
So they went ahead and developed the technology themselves. Working in conjunction with Technical University of Delft, they were able to obtain funding and moved forward modifying vehicles intended for robotics manufacturer EasyMile. The vehicles were tested along a 200-meter stretch of road for two months before receiving approval for a rollout this spring.
In just two years the vehicles came together and cost the local government 3.4 million Euros ($3.8 million) for a pair of vehicles set to traverse Wageningen University's streets alongside other cars and pedestrians. Students, guests, and teachers can simply summon the vehicle with an iPhone app, step right in, and be shuttled off to their destination, so long as it's along a select stretch of road.
WEpods are also an open-source project, so other companies and governments can utilize the technology. Apparently Rotterdam, Amsterdam, and Brussels are already interested.
Even if it's only limited usage, this is an exciting development in the advance of autonomous vehicles.