The 'Colony' Season Finale Proved How Much The Show Loves to Torture You
There's a lot left for USA's most puzzling show's Season 2. Let's hope it doesn't get too 'Lost'-like.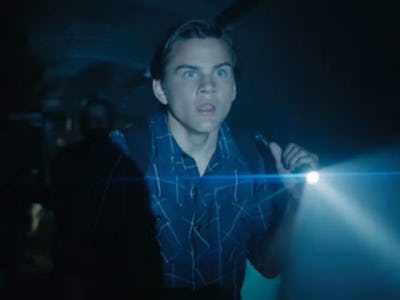 usanetwork.com
A wise Borg once said, "Resistance is futile," inadvertently summing up the cruel point of Colony's season finale. The motto also gets at the bleak, Sisyphean nature of the entire series, which ultimately turned out to be something much less by-the-numbers than one might have expected at the outset: both more interesting and more frustrating. If there were ever doubts that the show, like a good X-Files episode, got off on being withholding, they were totally alleviated last night.
Here's the question the series asks: In a totalitarian state in which an alien race with seemingly limitless power and surveillance mechanism, how much change can one truly accomplish? And it doesn't dance around that conceit: The show dug into an uncompromising view of repression and isolation in its alternative universe, risking alienating an audience expecting bigger shocks and hand-holding info dumps in the process.
The tension in the final episodes of Colony was driven mostly by the promise of loopholes: ways its most resourceful characters had found to gain some small insight the universe of their hosts. The most crucial of these were the interception of the "VIP" and Bram (Alex Neustaedter) and his teacher's Operation Telescope. Just one glance would mean the world to them. Yet no hard answers are gleaned; their results are in vain, and also have serious adverse effects.
Perhaps the only positive result is that Katie's (Sarah Wayne Callies) mission, obliquely, leads to Will getting out of the bloc to look for Charlie, who is living like a semi-feral Lost Boy on the other side of the wall. But otherwise, the finale offered no revelations about the "hosts"; Morgan's (Thora Birch) team never gets the VIP's suit off. Whatever ghastly or deceptively normal creature lies beneath remains a mystery. Their ploy causes drones to blow up a few skyscrapers at random, seemingly just for effect. Ultimately, it leaves the Bowman family in pieces — in different isolated zones, unsure of when reunion might be possible. Everything else, very surprisingly, goes back to normal in the colony.
One thing that is puzzling is why the insurgents are at all surprised that their rash underground maneuver could have had this impact. Thora Birch stares up at the fiery skyscraper, wondering aloud: "Is this our fault?" Well, of course. It's one of many puzzling questions of motivation and self-awareness in this episode. Others: What kind of a man is Burgess (Adrian Pasdar), and what is his endgame in terms of accruing power and influence, and with entering into a romance with Maddy (Amanda Righetti)? Is he better or worse than Snyder (Peter Jacobson), a man who he seemingly refuses to assist when he needs it the most? It's never clear if Burgess is powerful or powerless. The role he serves in this show, hopefully, will be a major focal point in the coming season.
Dramatically, this was certainly a disappointing episode, beyond a shadow of a doubt, but stylistically, it was a tour de force. Carlton Cuse and Ryan Condal's ability to subvert expectations at every turn, and shape unusual plot and character arcs, is cryptic and fascinating. In this way, though, Lost really comes to mind, which is and should be a source of worry. Does the show cut deep, and have a lot planned for us, or is it simply an exercise in mood? Even after a full ten episodes, it's unclear, and probably, it doesn't really matter, because the urge to keep watching becomes increasingly urgent, and assures our investment. All this happens even despite the fact that we like we hardly know any of the show's side characters at all — Beau? Jennifer? Maddy?
Then again, maybe these characters don't know each other either; even Will (Josh Holloway) and Katie are at less half-strangers to each other most of the time. Colony creates a world where emotions don't fire properly from every synapse — when communication is difficult, and trust and openness with each other is a far-gone conclusion. Just watch Snyder say goodbye to his daughter, Broussard parting ways with Katie, and Will sending Beau off. There's both a power and a palpable emptiness here. It's emblematic of both why this show has held our attention for almost ten hours, and why we remain deeply suspicious of it.