USA's 'Colony' Needs to Answer This Alien Question Right Away
Carlton Cuse's show needs to unveil the ETs sooner rather than later, and break its feedback loop of low-stakes gunfire and Resistance-related intrigue.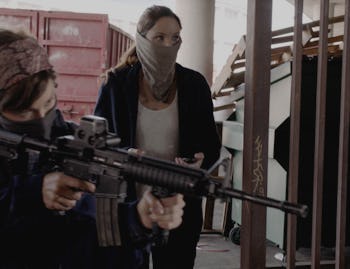 'Colony' Facebook and USA Network
Ironically, probably the most interesting development in last night's action-packed Colony was the moment in which Will and Katie's son (Alex Neustaedter) finally became a character in his own right — if only for a moment. After handing off a tape of the latest radio broadcast by, or on behalf of, resistance leader Geronimo to his science teacher (Adam Busch, aka Warren from Buffy), the two discuss something the rule-breaking teacher saw in the sky the previous night. Yes, in the increasingly tense world of Colony even a simple telescope is contraband. And, as he explains, he's building a bigger one.
The inevitable completion of the big telescope will certainly provide a glimpse of the macro threat here; one that's been in the shadows thus far on the show. There is a startling lack of interest among the Resistance in actually seeing or dealing with their occupying force. It is clear that they know something the viewer does not. More irritatingly still, we still don't understand why exactly the Earth was colonized.
The driving concern of Colony has thus far been the violence and martial law on the grounds of Los Angeles. But the time is coming to move beyond that, lest Carlton Cuse's show become completely anodyne. The familiar tale of grassroots insurgency can keep our interest for only so long with the promise of giant extraterrestrial oppressors right off the screen. The main focus of the episode was again the deepening conflict of interest between Will's work for the Occupation and Katie's work for the Resistance — one that we have been made extensively aware of already in only two episodes. Here, Katie has to decide how much dirt she's willing to dish about her husband, and the peril she will put him in for the proverbial "cause."
Three episodes in, this dynamic is getting somewhat stale. While this week's episode was packed with action sequences — a Resistance truckjacking gone wrong and a standoff between Will and Beau (Carl Weathers as near self-parody), primarily — it was the discovery of the telescope and allusions toward a central database of information, presided over by Will and Beau's boss Phyllis (Kathy Baker), that truly captivated us.
Let's just hope the seeds Cuse has been laying result in some sort of decent garden. As it stands, the breathy acting of a permanently-concerned Josh Holloway and Sarah Wayne Callies' monologues about their missing son's baseball games is getting a little tiresome. Deliver those aliens already.