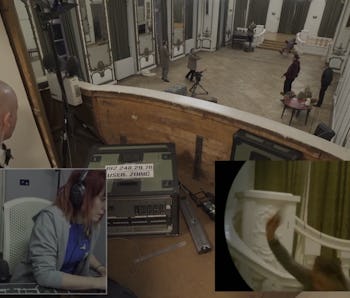 Innovation
Real Life 'Hitman' Kicks So Much Ass
This fan film done in Chatroulette is better than both film adaptations.
Strap in, because this is amazing. We've already ranted about how video game movie tie-ins and marketing films need to listen to the community and stop making garbage. Here's our new best practice to find a success, because I wasn't finished watching the video before I pre-ordered the new Hitman game.
YouTube creative group RealmPictures did a weird experiment on the Chatroulette platform — which isn't just for watching strangers jerk-off anymore — by creating a "Real Life First Person Game," where the people who came up on Chatroulette took control of the in-game player character. You can tell they're super unsure what to do with this series of events, and the second outing (embedded below) is a delightful follow-up.
Based on the success of that experiment, a video game studio reached out and asked them to duplicate this footage but with an upcoming title. That studio was IO-Interactive and the game is the forthcoming Hitman title.
These are so much better than either of the awful adaptations that landed in theaters over the last six years. Agent 47 is not a film anyone needs to see, and Hitman was even worse.
I don't want to spoil any of the surprises, so just set aside ten minutes and watch this video. I promise you won't be disappointed.
What. WHAT. WHAT? Jesus Christ. Around the five minute mark when we just start killing everyone — oh, God. This is so smart. This is so cool. Can I play this version of the game? Who do I need to call?
Here's a look at how the whole thing came together, which is just as impressive as the finished product.
As I mentioned, these are the early outings that the Hitman variations are built upon.
And here's the follow up Level 2:
I think we all have to agree with this commenter, who notes exactly why this is such a delightful surprise for the Chatroulette user base:
Why not indeed, Chris.