Peeple, the "Yelp for People" App, Launches Monday
Be afraid of Peeple, be very afraid.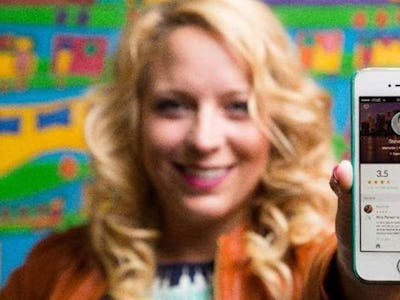 Peeple
Remember that app Lulu? It was the one where you could sum up the whole of a human man with anxiety-inducing hashtags like #CleansUpGood and #ProcreatedAndThenEvaporated. Well two Canadian women, Julia Cordray and Nicole McCullough, decided to take that level of public critique and humiliation to a Scarlet Letter level with Peeple. The new app is being touted as the "Yelp for People." It launches tomorrow to the dismay of many who'd rather not get the restaurant review treatment.
Though the creators seem to see this more of a way to find a good babysitter, it's really quite a dark and destructive concept. John Oliver said it sounded "absolutely awful" (please watch the clip below).
While A.I. might one day take away our jobs and boyfriends, this removes any control we have over our actual identities. So what if you use Instagram to convince people that you're a sex nymph holed up in a rapper's love palace but you really squat in a Detroit hovel with your pet rats? You're still representing you. It's your choice if you want to invite someone over to meet your rodent pals. Not every ass pimple has to be on display!
Peeple, it seems, would allow your mean neighbor or loving mother to tarnish or augment your image. This could be one you've created or a perception of the actual wonderful person you are.
The Calgary Herald notes Peeple rates you in three areas: personal, professional, and romantic. Horrifying — all three. The concept shifted and now you can approve your own reviews. But there's a "backdoor" launching this April. A paid subscription for a "truth license" allows others access to the negative reviews that you've kept hidden. "If a mom wants to look up a coach for her kids, she can see all the amazing things on that person's profile, but maybe there's some areas of improvement for that person," Cordray explained to the paper.
Let's just hope, in the name of transparency, Julia and Nicole are planning to launch on Monday by creating their own profiles first.