"Clock Kid" Ahmed Mohamed's School District Sues State to Keep Case Secret
It doesn't want anyone knowing about the DOJ investigation.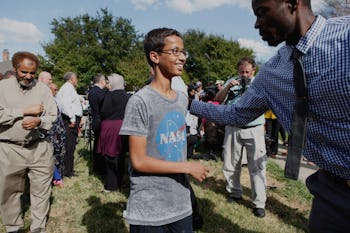 Getty
The Department of Justice wants to know whether the Irving Independent School District violated Ahmed Mohamed's civil rights, but the Texas school district does not want any of the details public. In September, Mohamed, a 14-year-old Muslim student, was arrested for bringing a homemade clock that police thought looked like an explosive device into his school, prompting a massive national uproar.
The Department of Justice launched a full investigation of the incident, but the Irving Independent School District really doesn't want to talk about it. The school district is suing to keep the case public, after the Dallas Morning News requested a copy of a letter sent to district officials by the D.O.J. pertaining to Mohamed's case.
In September, Mohamed was showered with support, including invites to The Nightly Show, the New York Maker Faire, and even the White House.
But even though the majority of even-minded America rallied behind him, Mohamed's case became an all out legal war, with his family suing for damages and the Irving Police Department being forced to release 230 pages of emails about his case under a Freedom of Information Act request by Motherboard. The D.O.J. launched an investigation after Mohamed's legal representation launched a $15 million compensation suit and alleged that "several Irving Police personnel, acting in league with numerous others, deliberately disregarded and violated Ahmed's rights under 42 U.S.C. §1983, Title VI of the Civil Rights Act of 1964, the Texas Juvenile Justice Code, Irving ISD's policies and procedures, and Texas tort law" in a 10-page letter to the Irving city government.
Irving's Mayor, Beth Van Duyne, was a fierce proponent of "Anti-Sharia Law" measures that many of the town's Muslims saw as blatantly anti-Islamic. Irving has roughly 200,000 residents, nearly one-fifth of whom are Muslim. The school district has turned over several documents, including the letter the Dallas Morning News requested, to the investigation, but desperately wants to keep them out of reach of the public.